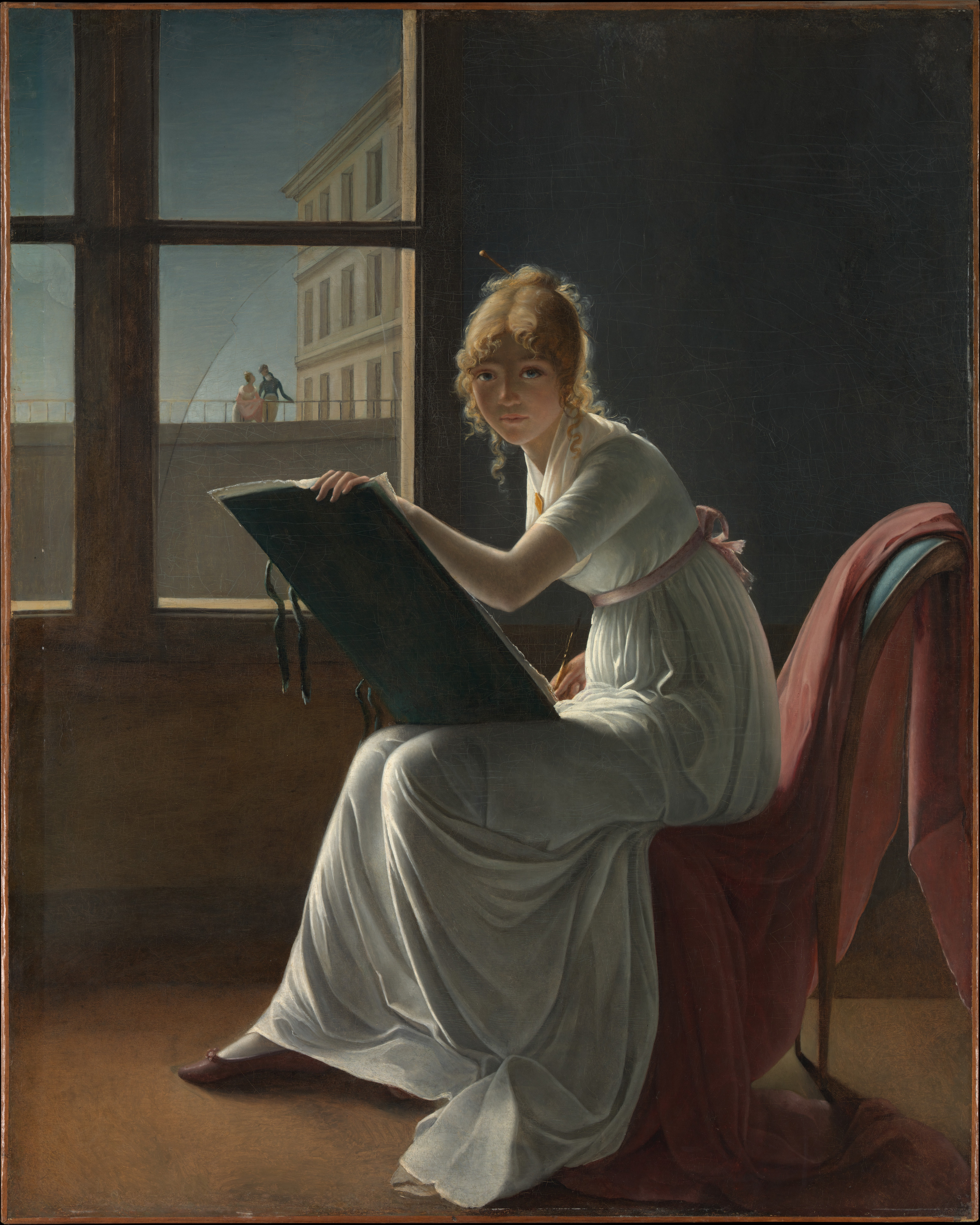 4 min read
You know those things you wished you'd done but couldn't get yourself to say yes to? For me, one of those was in 2011 when I was one of many Met staff asked by the digital department to participate in the Connections series about works in the collection of particular meaning and inspiration to staff.
It's exactly the kind of thing that museum digital departments should be doing—translating the passion of the staff for the inspiration of visitors—and while I was flattered, I had other stuff going on in my life, or so I tell myself, and decided I didn't need the stress. (How times have changed: see here for my frothing-mouth self-filmed but expertly-edited promo for the 2016 Museum Computer Network conference.)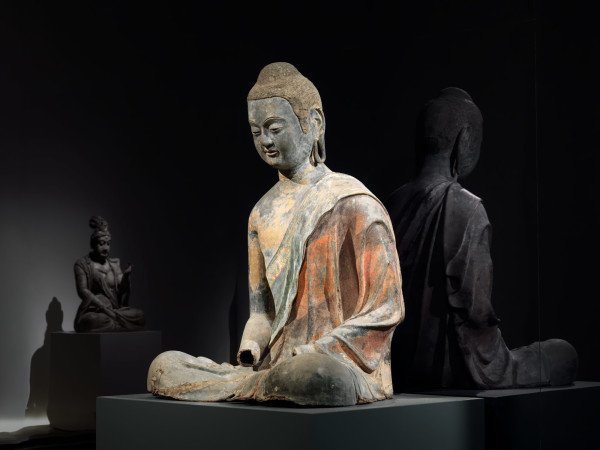 Sometimes I can sit here for hours—the oldest Buddha in gallery 208 at The Met
But, in that multiversal world where we imagine an alternate version of ourselves having done something we wish we'd done, I knew what I would my Connections video would have been about. I even had a title: "Playing Favorites." And it was about my favorite work of art in The Met.
I don't mean the best work (whatever that means), or even the most meaningful work to me—that would be the many denizens of what I call the Buddha room, gallery 208—but one work which just taps me on the shoulder and says, come.
That would be this: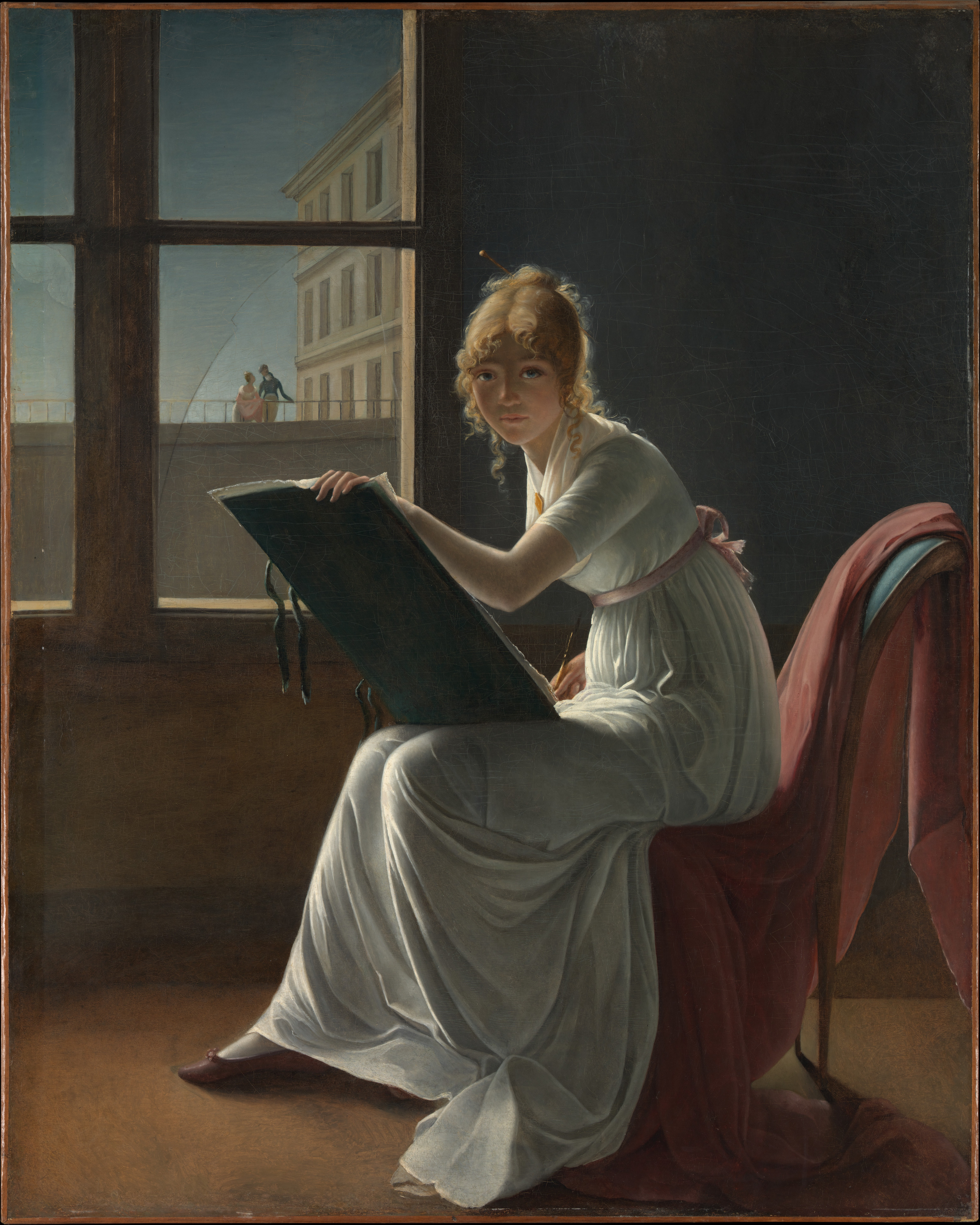 Charlotte du Val d'Ognes (died 1868), attributed to Marie Denise Villers
I visited that work many times over the years that I've worked here, as it moved around a bit in The Met's European paintings galleries. Over the time that I've been at the museum, the painting (from 1801; it joined the Met's collection in 1917) went from being attributed to an unknown student, then to Marie Denise Villers as a self-portrait, and now possibly a portrait of Charlotte du Val d'Ognes by Villers, but a lot of this are speculative. Seeing the story change over the years has been an odd thrill. Who knows what would be different when I went back to see the painting after a few months, or maybe even a year, as I got pulled on different projects and in different directions, as many of us do when we've been at the same place for a while. I wasn't a regular visitor to the painting, letting my viewings lapse like an old collegiate friendship.
Recently, however, I was doing final text corrections for a new book on The Met's Masterpiece Paintings and I came across an updated entry for the work. I gasped and then went to the website and saw this: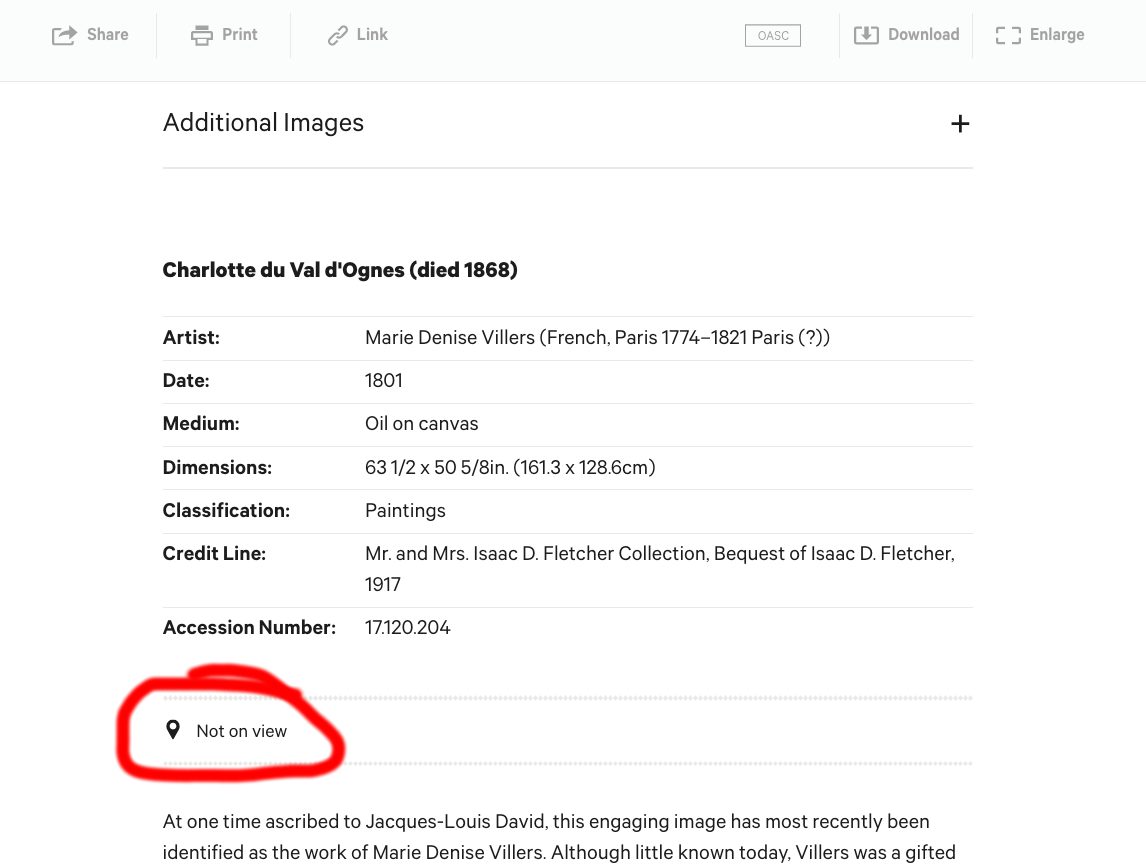 Not on view. Waah!
I then had to visit the painting in my memory (helped by the digital version in front of me). What had kept me coming back year after year? Isn't wasn't just the changing nature of the painting's attribution, like when you Google someone you knew years ago and you can't quite tell if that LinkedIn picture is really them or not. Villers or Val d'Ognes, whoever the sitter is, stays frozen, but the scholarship around them changes. There's no Facebook status to be updated.
So maybe part of what kept me coming back to this painting wasn't just the odd expression of the sitter/subject in the interesting and careful light, or the couple in the background having a moment, but the fact that it changed in my working lifetime. Or maybe the fact that it wasn't a well-known picture in the Met (The Met doesn't have that signature painting like the Louvre). It felt like it could be my favorite and no one else's. As a contrarian Aquarian, that appealed to me. I was never going to be elbowing people aside to look at the painting, and perhaps visitors would be impressed by a staff member, ID and all, looking at the art.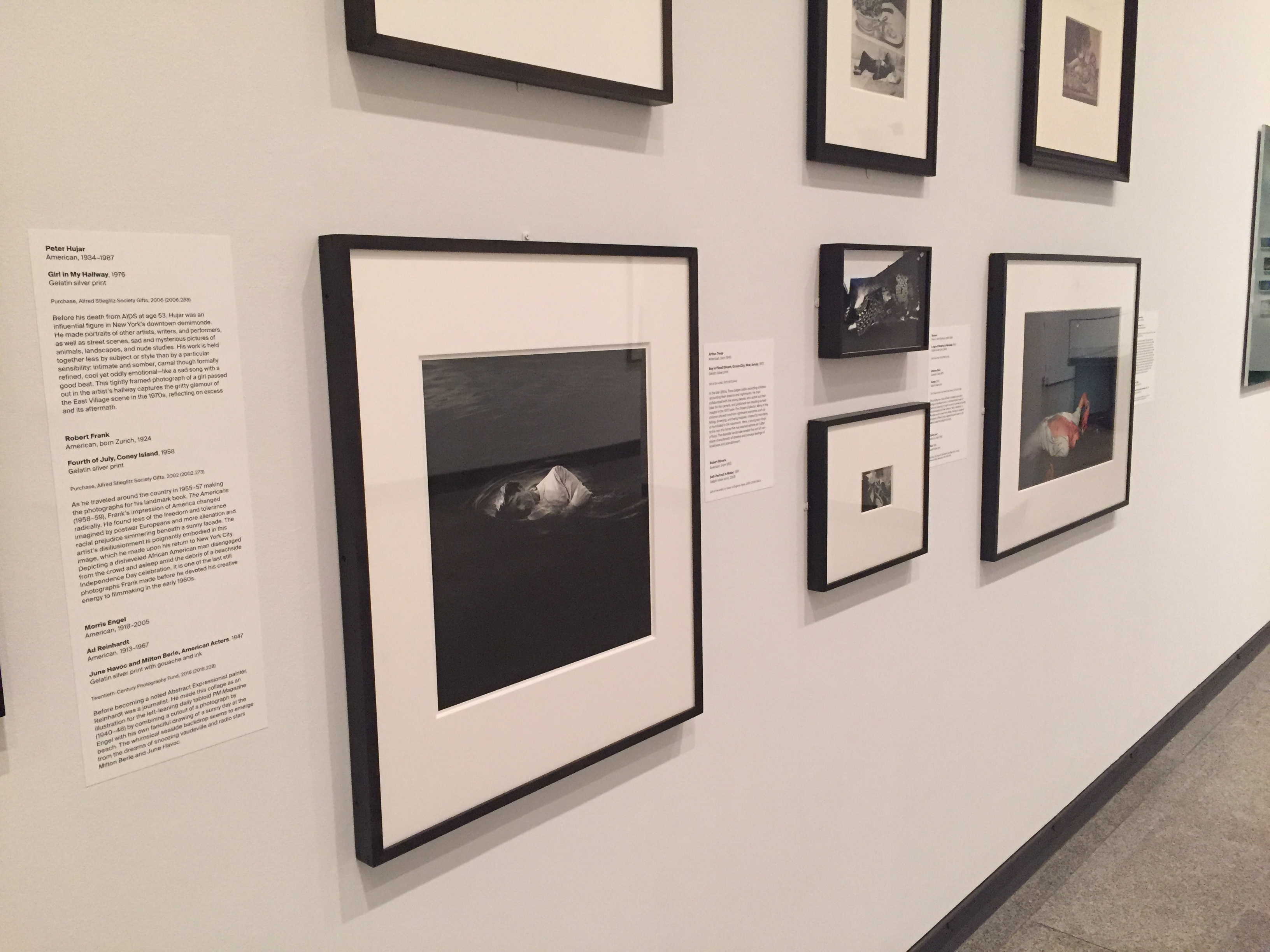 Some of the 4,300 labels I typeset last year. Hard to pick a favorite
Or maybe, not coming from an artistic or art-history background, I liked being able to call this work my favorite. It can be the source of inferiority complex, working around so many scholars—not just curators but knowledgeable editors, production staff, hell even the admins have advanced degrees. What say do I have in having my taste come through? I mean, editors apply their language sense and production staff their color sense (as well as their trained understanding of what's correct) when evaluating text and images. As a typesetter working in Quark and InDesign I was applying process to making the galleys work or getting corrections to fit, unless I want to point at some particularly sublime tracking and said, hey, that's mine. In a strange way, working on labels puts little pieces of me all over the museum, while working on books usually consigned me to the museum store. But it's hard to find a label that's my favorite, the way I can remember particular books I worked on.
But having a favorite work in the museum makes me feel that much more a part of the place, not just for the particular skills I bring, but because that's why we're all here—so that we can bring our passion to our visitors, and they can have their own favorites, too.