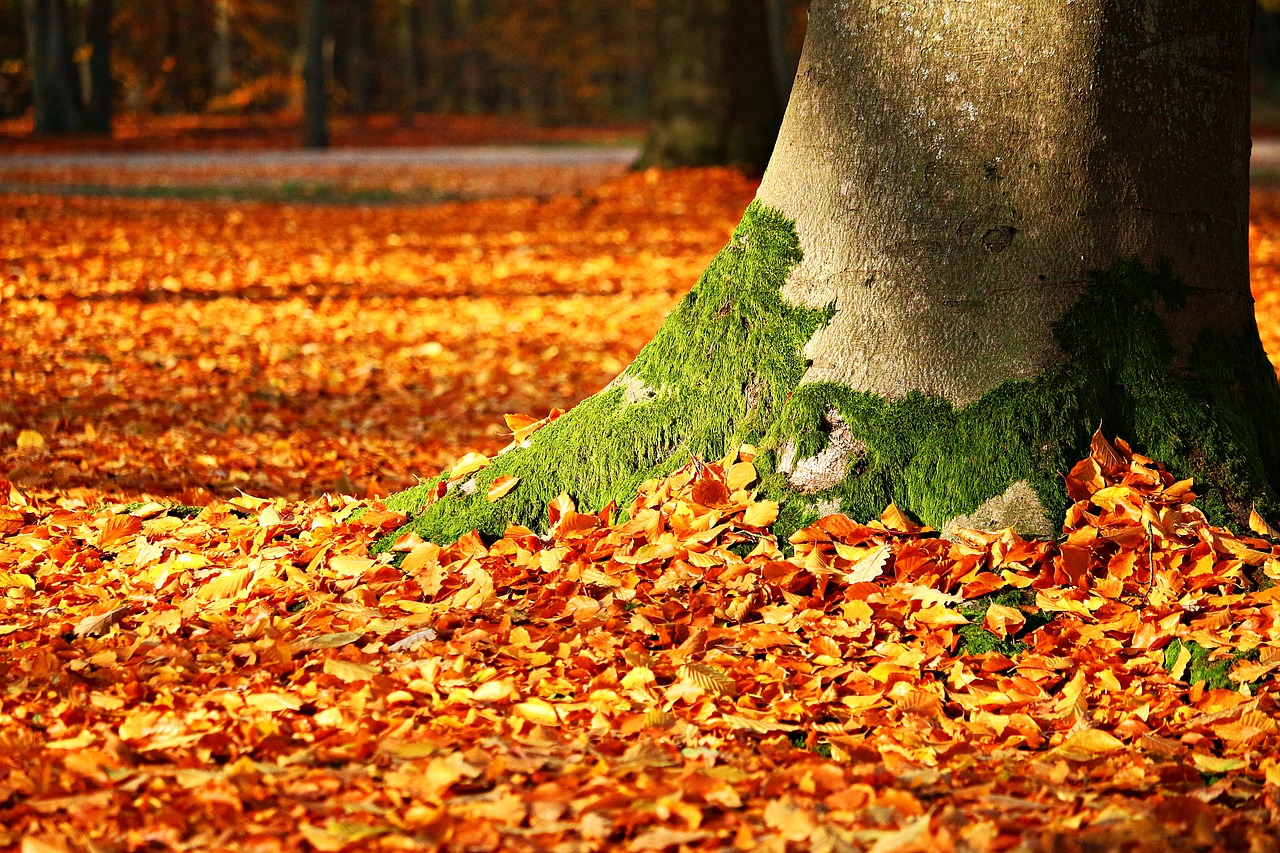 5 min read
Or as it was originally called, "Spring is Coming" and then "Summer is Coming."
I've started this post several times over the past few months, but between my work as program co-chair of the Museum Computer Network 2017 conference (more on that below) and the non-stop slow apocalypse we find ourselves in—when it never felt like the right time to write about museums as workplaces or museums and organizational culture—I never found the time.
Well, better very very late than never.
MCN2017 is coming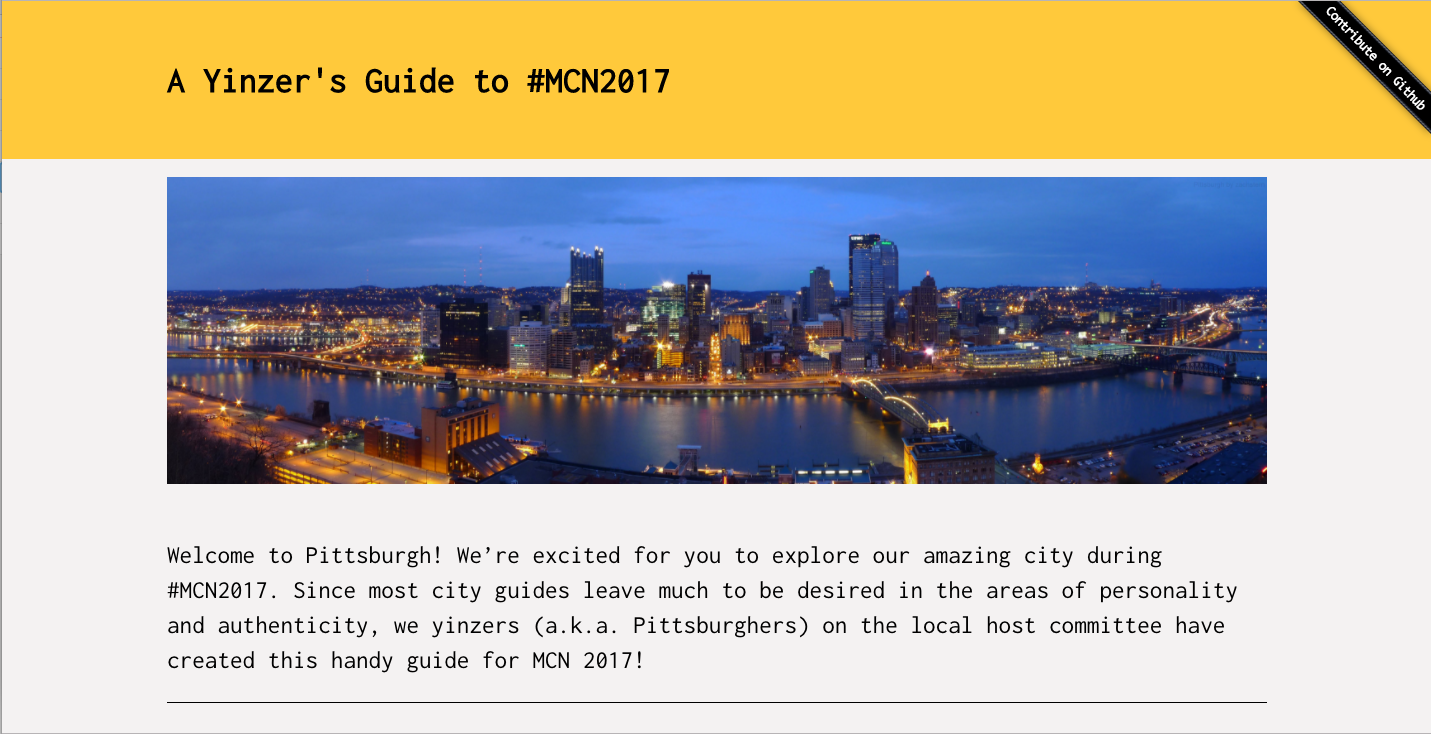 This year MCN comes with a handy guide by locals!
(credit: @jinscho & more yinzers who adapted this from @patrickfulton & other yinzers, CC Image: Pittsburgh Panorama by Zach Stern on Flickr)
The busiest volunteer position I've ever loved has been my work as program co-chair of the Museum Computer Network's annual conference in Pittsburgh this November. Along with my great fellow co-chairs Jennifer Foley and Trish Oxford, assisted by a cohort of 40-plus Program Committee members, it has been a very busy past few months:
We came up with a theme for this year's conference, "Looking Back, Thinking Forward, Taking Action," a direct response to surveys of previous conference attendees who felt there was a gap between the excitement of the conference and the actions which followed in our institutions and communities, needed now more than ever.
We decided on a three-person keynote conversation, rather than a typical one-person-at-a-podium, with multi-talented Adrianne Russell and Aleia Brown—museum professionals and the co-founders of #museumsrespondtoferguson—interviewed by journalist Jamil Smith).
This was followed by the million-and-one details of planning a conference with 200+ proposals, 150+ sessions, and an expected 600+ attendees. Read along with the MCN blog for more info (and check out the many, many awesome conversations in MCN50 Voices)!
I'm personally involved in two sessions at MCN: "Change: Not just Surviving, but Thriving" (one of several MCN sessions on the subject of change) with the amazing Seema Rao, who's already written a book on self-care and resistance and who blogs regularly here (and had a killer guest post recently); and a series of sessions called "#MCNergy: What I'll Do When I Get Back to My Museum," where I'll be joined by a dozen awesome museum-field colleagues to help attendees brainstorm, connect, and strategize to withstand the inevitable month-later dissipation of conference momentum and turn exciting ideas into real, actionable plans for them and their institutions. It's an experiment I'm very excited to try out.
via GIPHY *The MCN program is almost complete!*
And in other museum conference news, keep an eye out for the upcoming North American version of MuseumNext, with an amazing lineup of its own, in Portland this October. It's always worth following along even if you can't attend.
The next thing is coming
Honestly, every time I would start this entry I would barely recognize the country I was trying to describe (speaking with all the privileged whiteness I can muster). In D&D-speak, I used to think of the government as lawful neutral (abiding by rules above all), but now it's been thrown out of whack by the arrival of a truly chaotic evil individual and his family and cronies. It's no wonder I spend weekends reading 30 open Chrome tabs and clearing out 200 articles in Pocket. The mood ring is a roman candle with slide whistle noise of black with sparks. Of all the bullshit that's been thrown around the past year, "Grow up, snowflakes, the adults are now in charge," may be the bullshitiest.
via GIPHY *We've all got problems…*
So now we have the Great Flooding of Houston. Who knows what tomorrow might bring. I won't even hazard a guess. I'll continue to try to improve museums internally, using organizational design to distribute power to staff to effect change, with the goal of a hundred small wins leading to more momentous change and building upon the humanistic legacies of our institutions (while combatting the exclusionary practices that put museums on the wrong side of history). Thank you to my many great Twitter friends for spirited discussions on these topics over the past few weeks. (Check out spontaneous multi-day tweetchats on change in museums [here](https://twitter.com/gopaldass/status/900072920281645056) and [here](https://twitter.com/swatchway/status/900094534318776320) which led to [this interesting take on radical change from the inside of bureaucracy](https://medium.com/@Paulrbowers/bureaucratic-radicals-a141ca9d0088) by [Paul Bowers](https://twitter.com/Paulrbowers), Director Exhibitions & Collections at the Australian Centre for the Moving Image.
Org culture is coming
I'm excited I'll be attending a pair of two-day conferences on organizational culture (or org design, responsive orgs, etc.) here in New York: the Responsive Conference in September and Life@Work in October. Check them out—the organizational design field needs more people from museums and other cultural organizations, and vice versa!
For new readers, here's what's coming
I'm happy to see that since I last posted I've gotten some new subscribers. Thank you, and sorry for the long gap in new material! This blog started out early last year—check out my most popular posts of 2016—as a way to discuss all things museums (including content, technology, personnel, vision, change, the exclusion of the other, and more) from a workflow geek's perspective. (No, wait, come back!) My belief is that a museum can't be a force for good on the outside (audience, community, nation, world) unless it practices the good (and I don't just mean "excellence") on the inside.
And a new post will be coming just after Labor Day!
What I'm reading
I've gone full-on New York Public Library ebook reading on my phone. Since my last post, here's what I've read or am still working on (the downside of library ebooks, you can't just keep them and return them with fines):
I might have mentioned it earlier this year, but Colson Whitehead's Underground Railroad is worth reading.
The Dream of Reason, by Anthony Gottlieb, is a highly-readable introduction to Greek philosophy, including a sizable chapter on the impact of those schools of thought on the modern philosophical era starting with Descartes.
I just got back from the library servers and have resumed reading Black Mad Wheel, by Josh Malerman (his first book, Bird Box, is genuinely terrifying).
Carnivalesque, by Neil Jordan, is pretty good.
The Ballad of Black Tom, by Victor LaValle, is very good, especially if you like a dissection of white supremacy in 1920s New York with a touch of Cthulhu mythos.
The Buddha Walks into the Office, by Lodro Rinzler, suffers from "meditating-while-white" syndrome, but it's a very good read on mindfulness of the insight variety in office perspectives.
It's not an ebook, but if you're not reading Harvard Business Review, you really have to—it seems like it has several articles a day pertinent to institutional workplace dynamics, and if you're a museum person who thinks you don't need to read the business press, you're very wrong.
A testimonial
Will this mean as much when we have self-driving cars?

— Robert Weisberg (@robertjweisberg) July 23, 2017
I think I'll put that reply on my LinkedIn page.

— Robert Weisberg (@robertjweisberg) July 23, 2017
😂😂😂😂😂

— 💥alli💥rico💥 (@alli_rico) July 23, 2017
Thank you for reading. If you enjoyed this post please spread the word!