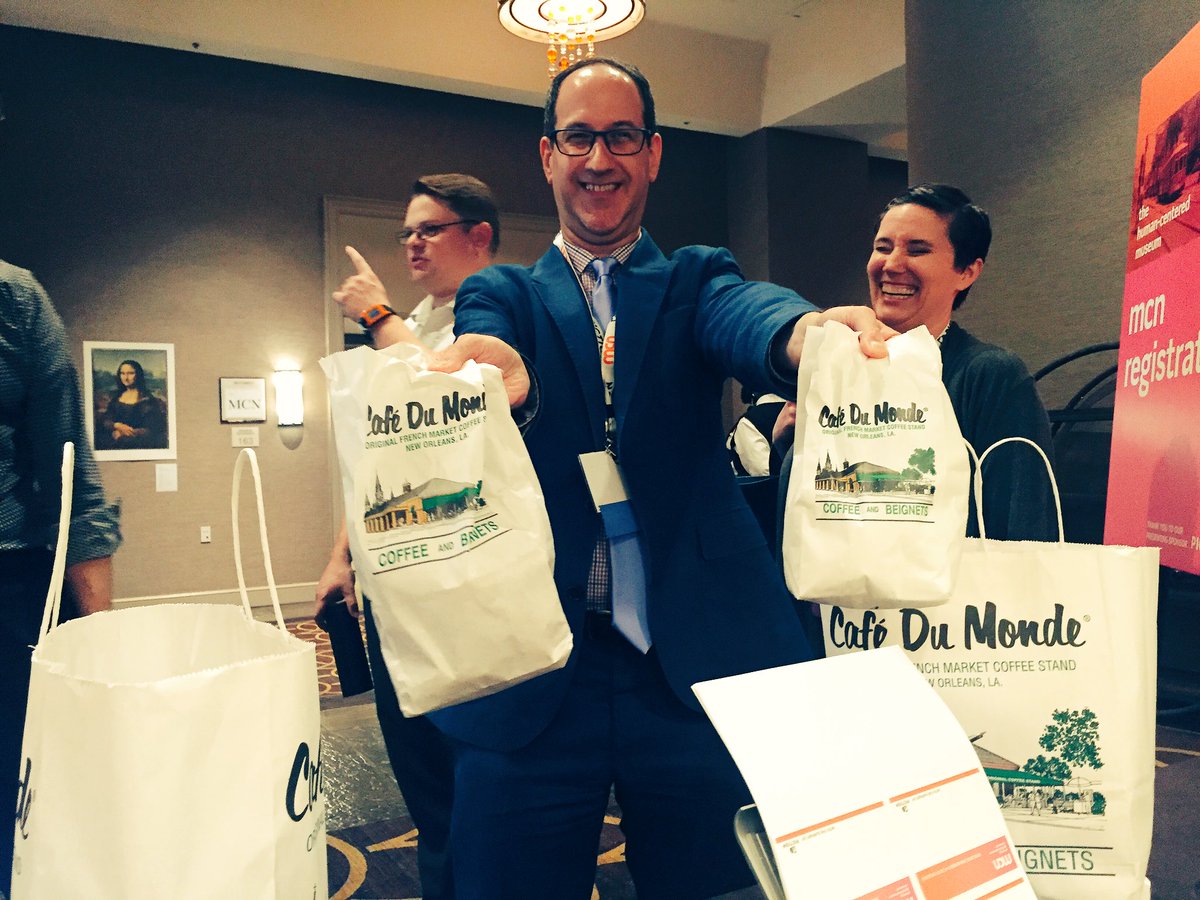 9 min read
Note: I wrote this post before the U.S. election results started coming in and later thought about pulling or not publicizing this conference recap. However, I've decided not to edit for tone or anything else. MCN2016 was a great, positive, uplifting conference, and it happened—and election night doesn't change that. In fact, it makes the feelings coming out of the conference even more important.
So my fourth annual karaoke night . . . I mean Museum Computer Network annual conference has come and gone, and The Human League isn't just a new wave fixture, it's a great way to describe the evolving nature of what is supposed to be, based on its name, a tech-focused gathering of museum professionals.
I had a busy MCN: doing a presentation, moderating back-to-back sessions, and running an "unconference" for views-my-own museum-field bloggers like me. What really pleased me, as a member of the conference planning committee, was how so many presentations related to the theme of the human-centered museum. In a profession where everyone seems to be battling over whether words on the human-centered continuum (like empathy and engagement) are buzzwords or not, it was great to see that the conference proposals meant something to attendees, and that this provided a true focus for the event.
Here are 10 highlights of MCN 2016, in no particular order.
1
Empathy isn't just a theme [of this conference], it's a meme.

— Dana Mitroff Silvers, design thinking practitioner/guru, at the panel "Changing the Museum Through Service Design"
I'm glad if I played any part of meme-ifying empathy in my presentation, "It Doesn't Have to be Toxic: When Empathy is Your Workplace Secret Weapon". (Click on the link to download the deck.) Empathy was everywhere over the three days I attended, with panels on Design Thinking, Service Design, Innovation, and even Vulnerability (how many tech conferences are discussing that?). Without empathy, these all lose their humanity and become just the next jargon-y bullshit.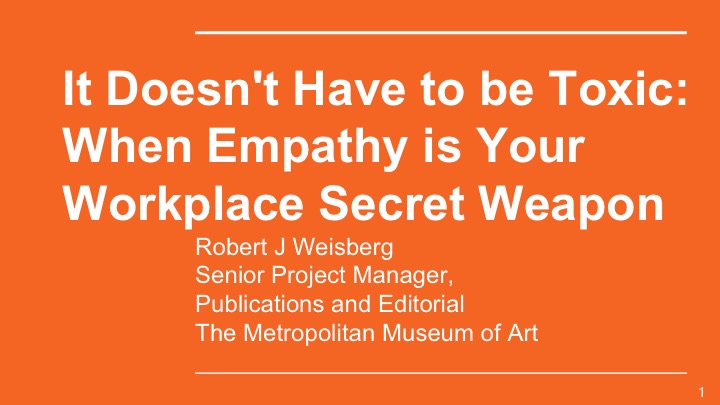 From the tweets I got in response to my presentation, there actually is something going on. How well we translate empathy into something actionable for our institutions, departments, and colleagues, not to mention our visitors, is the question.
2
We need courageous individuals that embrace the power of vulnerability to make true change in museums.

—the "North Star" statement of the panel "The Power of Vulnerability in Museums," moderated by technologist, consultant, digital strategist, and conference co-chair Trish Oxford
Trish Oxford led an extraordinary panel—which was every excellence-of-collection exceptionalist's nightmare—all about the importance of opening up when so much in our field is trying to get us to shut down (for reasons of fiscal austerity or worries). The format of the session centered around a list of 50 questions, chosen at random and addressed to one of more of the panelists: application developer and activist Nikhil Trivedi, accessibility consultant and entrepreneur Sina Bahram, Smithsonian Accessibility Program fellow Lesley Kadish, Director of Diversity Education at Wake Forest University Shayla Herndon-Edmunds, and museum educator and advocate for equitable museum labor practices Elissa Frankle. Questions raised to the panel included "Where is empathy missing in museum work?" and "How is vulnerability (uncertainty, risk, and emotional exposure) perceived on your work and with the institutions that you have worked with?"
Here is the amazing video that led off the panel.
The sizeable audience also participated and the whole hour was an exercise in workplace psychology and unpacking issues of equality and equity in our field. I can imagine staff in every workplace—especially those under any kind of stress, whether from fiscal or growth issues—benefitting from discussing these questions. (Check out this incredibly informative blog post from Trish Oxford about the panel for more insight into the ideas and research behind the session.)
3
We are not working In an emergency room.


—An audience member during breakout talks at the panel "Sustaining Innovation: Tips & Techniques to Keep Momentum in your Organization"
If you don't think innovation and workplace psychology go hand in hand, you're on the wrong side of history, my friend. In a world where we're pushed by business realities to abandon all perspective, the best advice might be to remember just what it is we're doing—and not doing. This panel—led by an all-star lineup of independent strategist Emily Lytle-Painter, Douglas Hegley of the Minneapolis Institute of Art, Greg Albers and Annelisa Stepan of The Getty, and museopunk Jeffrey Inscho of the Innovation Studio at Carnegie Museums of Pittsburgh—emphasized innovation through the lens of looking (not just "managing") up, looking sideways, and looking in. A lot of those dreaded squishy words came up during the panel's breakout sessions: resistance, assertive, collaborative, radical empathy (double bonus!), detach, transparent, radical validation (ding ding!). But if you just listen, there was real workplace and career advice for reading the needs of your boss and other senior staff, sending effective emails, and being a point of light in your office. Melded together, it makes for a holistic whole.
4
Museums are made of people. People have different personalities. An effective institutional voice represents a diverse institution with many personalities and voices.


-Stephen Boyd of the Albright-Knox Art Gallery, Buffalo, during his presentation "Institutional Voice: What are We Trying to Say?"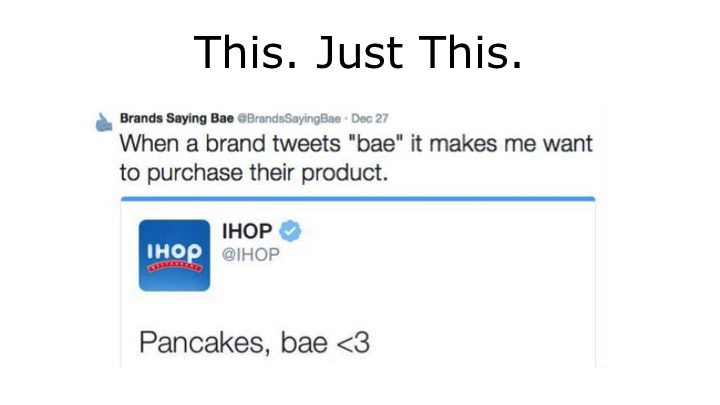 I got to introduce Boyd and Frith Williams (see #5 below) for a pair of talks that discussed external storytelling and internal institutional voice. Coming at the human-centered theme from a different direction (corporate-focused rather than holistic), Boyd linked corporate branding, the early days of online communication, and the work museums do to reach the public. Since I also came to the field from a background outside of museums, I appreciated the perspective he brought to the problem of branding when so many of us in museums have been taught to hate the word. Boyd had a wonderfully engaging presentation, and if we're getting 50-60 people at 4:30 p.m. in a small meeting room on the 8th floor of the conference hotel, we're solving for a real need. Just before his talk …
5
The principle of using unmediated (or seemingly unmediated) voices has long been a tenet of documentary making, of course. But it's amazing how often we 'intervene' and get in the way in the museum.


—Frith Williams, from the the Museum of New Zealand Te Papa Tongarewa, during her presentation "Tell Me a Story: Findings on digital and bilingual storytelling from a flying, five-month, Fulbright-funded trip across the US"
Frith Williams's talk came from a different perspective from Boyd's, and was a provocative critique of museum interpretive practice at the intersection of labels, digital, and gallery experience. (MuseumHack wrote about her tour here and I added commentary about the place of text in museums with a post in this blog here.)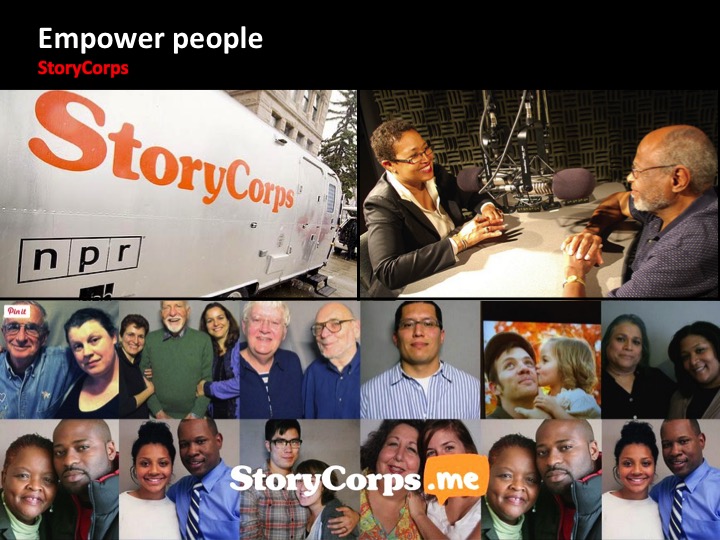 Williams argues that we need to provide experiences and not just objects to our visitors—labels are a part of that but can't be the whole thing. The innovation and empathy described in the panels I mentioned earlier should spread out to museum visitors through progressive storytelling that engages, and which gets stories back in return. Stories thus become a physical part of the museum environment.
6
You tweet to react; you blog to reflect.


—A participant at the MuseBlog "unconference" I organized (and for which I supplied fresh beignets) at MCN
A topic that came up several times at MCN2016 was having our own voices—whether in our offices with our bosses and senior staff, or outside of our official capacities as human beings and members of our communities and our audiences. With the great help of conference co-chair Jennifer Foley and the inspiration of Ed Rodley of the Peabody Essex Museum, I organized a lunchtime gathering of museum professionals who blog or otherwise scribe their own views about the museum field. Rodley is one of the organizers of the second CODE WORDS publication on Medium, A Series of Epistolary Romances (Foley and I just completed an exchange of letters, and many other conference attendees are writing there as well), and outlets like Medium were discussed as ways of reaching the public, honing our craft, and developing our own views and voice outside of the corridors of our workplaces.
I loved giving my talk on de-toxifying workflows with empathy but I was gobsmacked that twenty-some-odd museum professionals would spend lunch talking about something we do in our precious spare time. My evil master plan, it should be said, is to organize this group into the nucleus of a sort-of cross-content imprint on working in the museum field. (Now that's a business plan for you!) And you, dear reader, will benefit: stay tuned for a much-expanded blogroll.
7
Minimal Lovable Product versus Minimum Viable Product


—Allegra Burnette of Forrester Research during her presentation "Innovation, Improvement, and Collaboration Through Design Thinking, Lean, And Agile"
Another excellent pairing of presentations was that of Burnette with Jessica Suess of the Oxford University Museums (her presentation was entitled "Creating a Culture of Innovation"); Burnette provided a theoretical framework for innovative thinking, while Suess emphasized the actual experience of running an innovative project management endeavor across the four museums in the Oxford system. Again, the way that we humanize our workplace practices, whether through Design Thinking, Agile, or just giving a damn, is what is going to get museums through the tough times of colliding ambitions to reach audiences and the fiscal realities of a post-text era. We have to take time to think and craft our workplaces and processes; that's what it takes to be a human being working in a modern museum.
8
The shift from hierarchical organizational structures to networked ones is the dominant theme of the current era.


—Catherine Bracy, co-founder and Executive Director of the TechEquity Collaborative, formerly Code for America's Senior Director of Partnerships and Ecosystem, giving the conference keynote
Bracy, a digital/humanist organizer and activist, gave the opening morning keynote at MCN2016 and thrilled the room with a throwdown about decentralizing authority. Her description of how the Obama campaign's interconnected/snowflake structure mirrored the communication flow of the internet got the idea of using human-centered networking in a digital age off to a rousing start. Whatever the results of the 2016 presidential election (I'm writing this as voting is taking place across the country), she had lessons for any kind of organizational plan, especially one which hopes to empower every level of the institution.
I keep beating the drum of looking past buzzword-aversion here, but it's true. Everyone likes to talk down networking as a new iteration of "collaboration" (and a terrific last-day panel "'We Are Going to Need a Bigger Boat': Building Collaboration at the Philadelphia Museum of Art" intelligently addressed the pitfalls of ill-planned collaboration for its own sake), but if we think of networks as people and not just nodes—like we should with any workplace or societal structure—we are a long way towards humanizing our surroundings. Museums, and the people who work in them, can afford no less.
9
We have a choice: to be blown and buoyed by this incredible cloud of [sensory] data or to slow down and notice. To me, this is the essence of being human.


—Lesley Kadish, Smithsonian Accessibility Program fellow, at her opening-night ignite talk, "What Do We Know?"
Kadish, whom I mentioned in #2 above, talked about smells, and yes, she meant it in a museum context. She described a team-up with a tea maker for a sensory investigation at the Smithsonian's Freer Gallery of Art in Washington, DC, asking visitors to sample a few different smells and then explain which one best captures the feel of the gallery. The best learning moments, she told the crowd at New Orleans's House of Blues venue that night, didn't come from familiar aromas like jasmine or lavender, but from ones (from her singed hair, cumin, and my favorite, old books) that required visitors to reach, to look around, to invent, tagging smells as resembling the texture of a door frame or the curves of a vase in the gallery. These moments, in between knowledge and sensation, are for all of us, and are what keep us human when answers are seemingly always a smartphone tap away.
All the ignite sessions from that evening are worth watching on MCN's YouTube channel.
10
Rather than a panel or presentation description (and I have notes on half a dozen other sessions I personally attended), I'll end with this: next year is MCN50, a special anniversary of this amazing event. For me, next year (Buddha willing) will only be MCN5, but it's incredible to me how my own view of this field, my place in it, and the possibilities of technology and humanism to bring our collections and our scholarship together with audiences, has changed in these short few years. Before attending MCN I worked in a museum; now, working in a museum inspires me to write about it, to want to bring the work of my colleagues at The Met and in this field to the attention of everybody, and vice versa. Thanks, MCN, and see you next November in Pittsburgh.
BTW, #MCN2016 volunteers run on beignets (they went fast) Thx again @robertjweisberg @Jennifer_Foley! 👍 pic.twitter.com/jUMXdbmCQU

— Essie Lash (@yo_essie) November 4, 2016