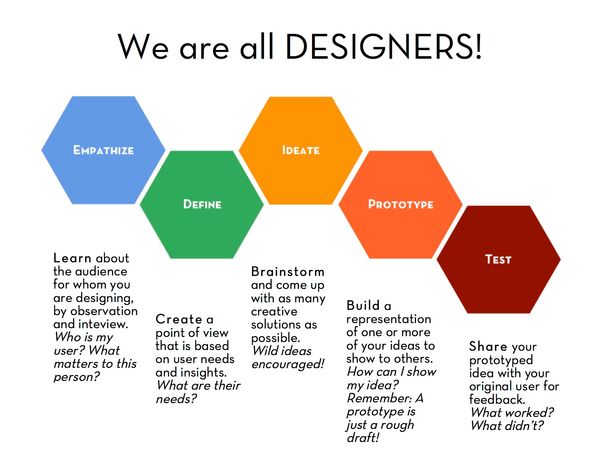 Update: After this interview but before I launched this site, I took Dana's workshop (ably co-led by the Hammer Museum's Susan Edwards) at the November 2015 Museum Computer Network annual conference in Minneapolis (see my review post here). Though it was called "Building Authentic Connections with Visitors through Design Thinking," I took it with the aim of learning empathy techniques for better working with colleagues inside the institution where I work. If you've never taken a class with Dana, or any class in Design Thinking, I strongly encourage you to sign up, especially if you've never taken one. Check out the slides from her MCN workshop here.
Update McUpdate: To read more about Design Thinking, see what the New York Times wrote about IBM's adoption of DT in its customer design processes.
One of the best results of moving outside my museum-art-book print background and attending more tech-oriented conferences like the Museum Computer Network (MCN) annual fest was meeting cultural consultant Dana Mitroff Silvers. A pioneer in applying the newly-named practice of Design Thinking to museums and other cultural institutions, Mitroff Silvers runs the firm Designing Insights, and before that was the Head of Online Services at SFMOMA. Her blog Design Thinking for Museums is an invaluable record of case studies, often guest-authored, of Design Thinking in practice.
![Dana Mitroff Silvers](/content/images/2015/09/mitroff-about.jpg)
I interviewed Dana earlier this year and talked about Design Thinking, its emphasis on empathy, and on effecting change in the organizational culture of cultural institutions.
RJW: First, tell us a little about your background and your firm.
DMS: I left SFMOMA 2 years ago to establish Designing Insights. We work with a wide range of museums around the country: art, science, ethnographic, history, and with other kinds of institutions as well like a public media station, some software companies. Because I worked with SFMOMA's website I can speak the language of software designers and understand the way they work.
I've always been obsessed with bringing things to museums from outside the field. I'm not sure where that came from but it's always been a part of my personal interests. Museums tend navel-gaze. Challenging the notion that "we in museums do things a certain way, we've always done things that way because we're the experts" can raise hackles with a lot of museum people.
RJW: Yes, I encounter that a lot.
DMS: I'm not saying this is always the case, but I think that there are a lot of things outside of museums that are complementary to the way we do things inside museums which could make museums even better.
I started with an interest in museum education, which back in the day was just called multimedia and was just CD-ROMs. Then the Web came along, but I didn't want to just focus on the Web. I was always interested in having a content piece along with the technology piece.
Then my work morphed into museum education using technology, then into working in educational software. I left the museum world to build my tech skills in Silicon Valley at an educational software company called Computer Curriculum Corporation, and then I went to work for an online community website at the University of California, Berkeley, and then I went back to museums. I was always excited about bringing the practices and processes that I learned in the for-profit, educational-technology world back to the museum, into what I was doing at SFMOMA.
RJW: Was it a tough sell bringing this to museums?
DMS: Overall, no, it wasn't a tough sell. The job I'd had just before SFMOMA I was involved in teacher professional development and software training, so I'd worked with software developers and technology professionals before. At SFMOMA, we didn't even have a process for requesting something go on the website! There wasn't even a staging environment, you would just publish and go live. But my colleagues recognized that we were trying to professionalize what we were doing, to raise the bar on best practices. We had never done any user testing on the website, any user research.
RJW: What were some of the challenges in getting it going?
DMS: A lot of people came from print design, so the design process involved sitting around a room and working with visual designers about how the website should look. User testing and user research was very new. Back then I was reading the first Jakob Nielsen book Designing Web Usability: The Practice of Simplicity. He is the grandfather of the field of web usability. That book was revolutionary to me. I was so excited when I read it. It really emphasized the importance of user personas. I thought, 'Why don't we do this in museums? Who says we can't do this in a museum?'
Of course I had pushback from different levels, but overall, maybe being in San Francisco, which was the center of technology, with so much other tech and culture happening in the Bay Area, helped. So did being in a modern and contemporary art setting. SFMOMA was one of the first museums to have digital artworks commissioned by the museum and accessioned into the collection. It was an environment that was open to that kind of thinking.
RJW: How did you get introduced to Design Thinking?
DMS: A former colleague was part of the founding team of the Stanford d.school, and she encouraged me to learn more about Design Thinking by enrolling in an executive education program at the d.school at a nonprofit rate. That three-day immersive course really introduced me to Design Thinking. And then I thought, why shouldn't I bring this back to the museum? Why wouldn't a museum want to follow this approach and incorporate all these steps in designing whatever it is they're doing? And the mindset in the course was, you really have to go back and try this, even if you fail, you just have to try this.
After the Stanford course I went and built my skills by applying Design Thinking internally at SFMOMA, and then by teaching it to colleagues at local museums such as the Contemporary Jewish Museum. Since then I have taught Design Thinking at the Smithsonian's National Air and Space Museum, J. Paul Getty Museum, Indianapolis Museum of Art, Anchorage Museum, Denver Museum of Nature and Science—and the list is growing!
RJW: How did 'design thinking' develop?
DMS: If you look at the fields of human-factors engineering and ergonomics, Design Thinking is emerging out of those fields—thinking about who is the end user of something that you are making or creating, whether it's a thing or an experience. Design Thinking is just a process and a mindset for incorporating the needs of the end user into whatever you're making. It's a framework for doing so and doing it in a mindful way.
It's not the greatest term, because the word "design" has a very specific meaning, especially in a museum (or publishing) setting. That sets up red flags for people, and they pigeonhole Design Thinking into visual design, but it's not. It's about what it means to be a designer of an experience. You, Rob, are a designer, designing workflows, or designing publications, and I don't mean as a graphic designer. You're 'designing' the experience your colleagues have, and how the reader interacts with the publication, thinking of a holistic experience and break down the process into discrete steps. It's a process and a mindset.
RJW: Can you see DT in a museum setting turning into something else?
DMS: The evolutionary process of museums can be slow, but the fact that many museums now have evaluators on staff is new. Traditionally evaluators have been part of educational departments, but I'm starting to see evaluating not just for educational outcomes, but around exhibitions and programs.
RJW: Is Design Thinking only external-focused, on audiences, or does it affect the internal culture of the museum as well? It seems like DT is less about the content being produced and more about transforming or empowering the institutional culture.
DMS: That's it exactly. What I find in working with museums is that it really comes down to organizational change. And that's why I'm engaged by museums—very rarely does a museum call me up and say, 'wow, we want to change our culture, can you come help us?' It's usually a single project that a museum is working on, related to their strategic plan. It's about specific content but just as important is the process and the collaboration, and the ways that teams are working together to achieve their institutional goals.
RJW: It seems like Design Thinking has potential to make people engage with what's going on in their building, and give them tools to look at the work that they're doing and how does it relate to the work that they see around them. I see all these struggles over tools and processes, when some people just won't give up their trusty Excel spreadsheets. You seem to have stayed ahead of the process curve in your field.
DMS: That's what I like about Design Thinking, it's about not giving up tools but finding the tools that work best for you.
Bonus nugget: Both Rob and Dana are ENFJs. As she said, Anyone who's interested in Design Thinking and Agile is almost always an N.
Other links