The museum theory collective CODE | WORDS produced a series of highly readable and interesting essays on Medium from early 2014 to late 2015, and now have produced an updated print version available from Museums Etc., an Edinburgh-based publisher who has produced a series of books on museum innovation and practice. Check them all out.
I read the online essays with great interest and purchased the book as a holiday gift to myself (I know, I need to get out more). And it's for a good cause, as all royalties from book sales support Museum Computer Network conference scholarships.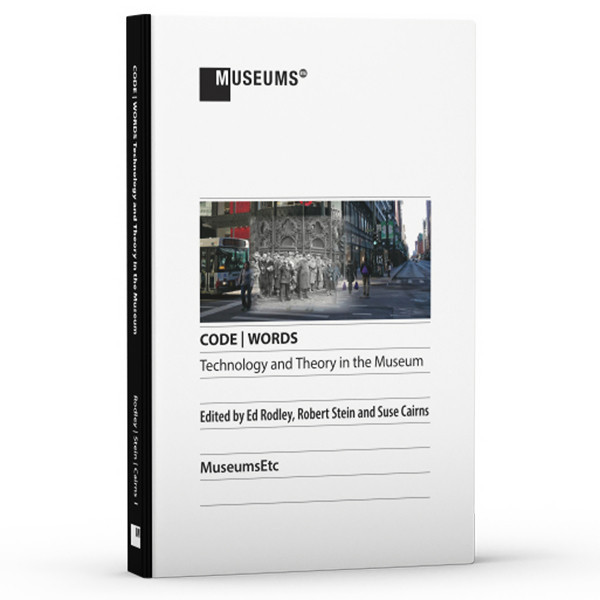 The subtitle, Technology and Theory in the Museum, actually does say it all, but the different takes on what technology has done and still can do to and for museums is what makes the book worth reading. I also appreciated that many of the essays refer to others in the book; there's a sense of a lively conversation going on, maybe not as dynamic as an online series of comments, but informed nonetheless. (So there, says print.)
A quick rundown of the chapters shows the breadth of outlooks on what might seem obvious (technology good):
Whew! This one review can't encompass the way that these essays play off of each other. I recommend reading for yourself; you'll feel a momentum about openness within your institution that will have you running to your co-workers and writing a manifesto or two to your boss and senior staff. Or maybe you are senior staff, in which case, all I can say is, open up!
In addition to Rodley and Stein, this book was edited by Suse Cairns, Digital Content Manager of the Baltimore Museum of Art, with a foreword by Seb Chan (formerly of the Cooper-Hewitt Design Museum). And this just in: CODE | WORDS has a new project starting up! You'll never think of love letters the same way again.