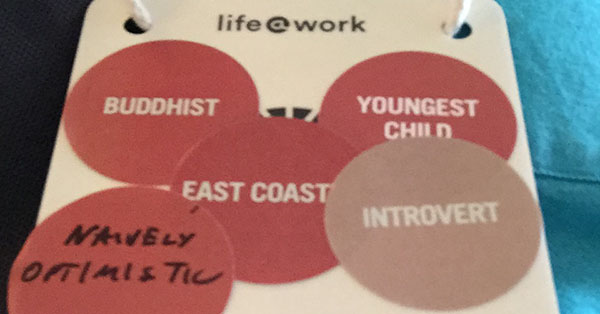 11 min read
A review of the Life@Work Conference in Brooklyn
With my most treasured conference—Museum Computer Network 2017—coming next week, I recently completed my two-leg NYC Org Culture conference tour in Brooklyn at the Life@Work Conference. It was two intense, long, emotional days—not unexpectedly, as Live Grey, the conference's creator, occupies the personal-authenticity-and-development end of the organizational culture spectrum. (Read my interview with the company's Head of Strategy and Culture Dara Blumenthal here or here.)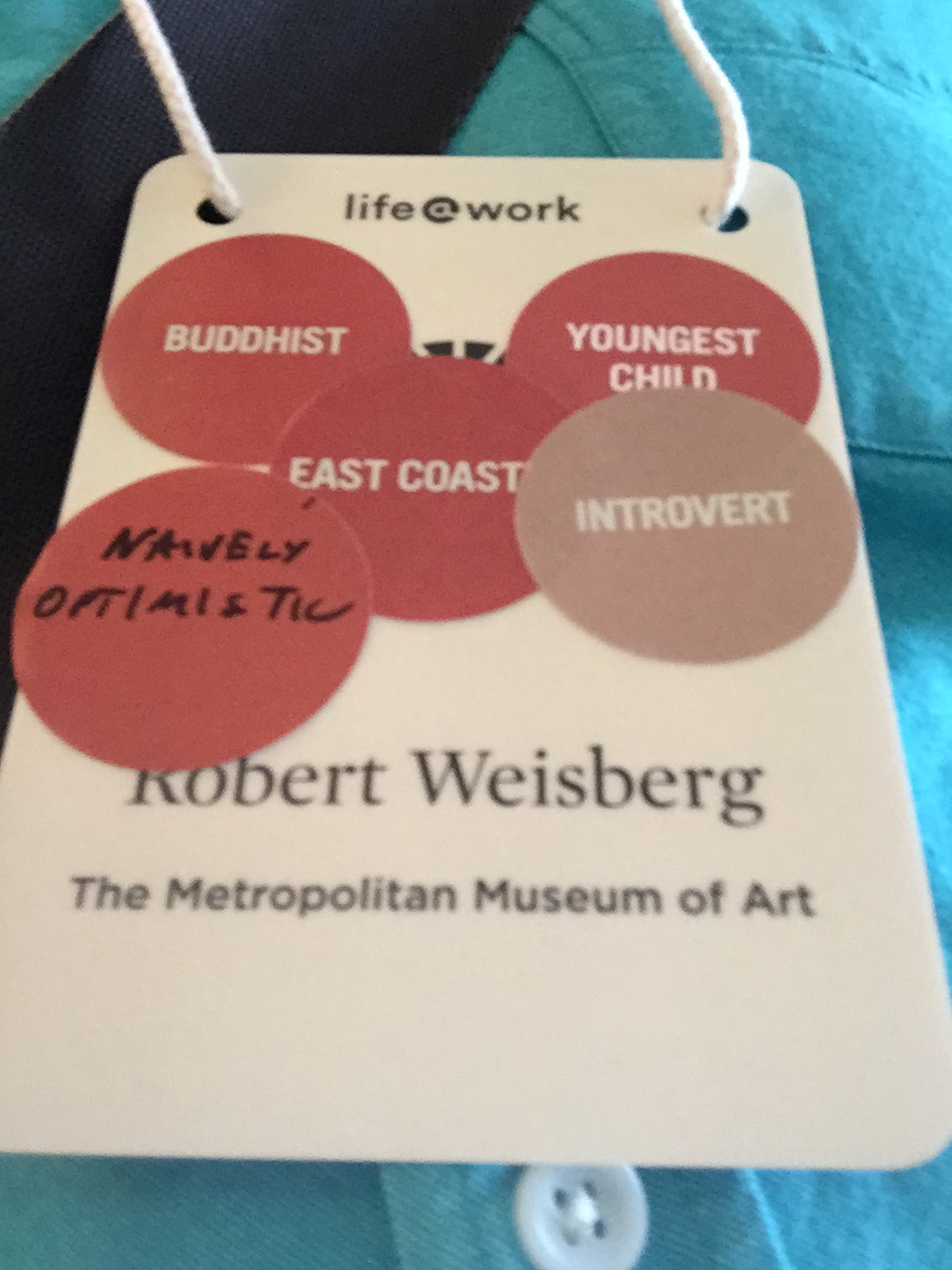 This one's (naively) optimistic …
The contrast to September's Responsive Conference (which I wrote about here) was telling—and also surprising, though. While responsiveness often focuses more on teams and corporate structure, the breakout sessions at the September conference were surprisingly personal, featuring exercises to eliminate the fortress of our authority and express our vulnerability in order to forge learning organizations. (And such things, unsurprisingly, don't always go over well in expertise-centric museums.) Life@Work focused on people but the discussions quickly turned to how to scale a humanistic culture at organizational levels. Call it a sort of top-down versus bottom-up culture transformation.
But what then? Working in a museum, you're probably not expecting an institution-wide transformation anytime soon, inspiring stories from other organizations notwithstanding—I mean, do we ever recognize our own organization in these stories? (And I wore a sticker proclaiming myself "naively optimistic!") In a room full of people from growing companies or small org culture firms, being the person from a legacy organization with some serious silos of excellence can be a little disconcerting. But, then, so is authenticity!
So here are my 10 takeaways from Life@Work. You'll have to excuse the lack of on-the-spot photos, but the conference organizers asked phones to go away while sessions were going on.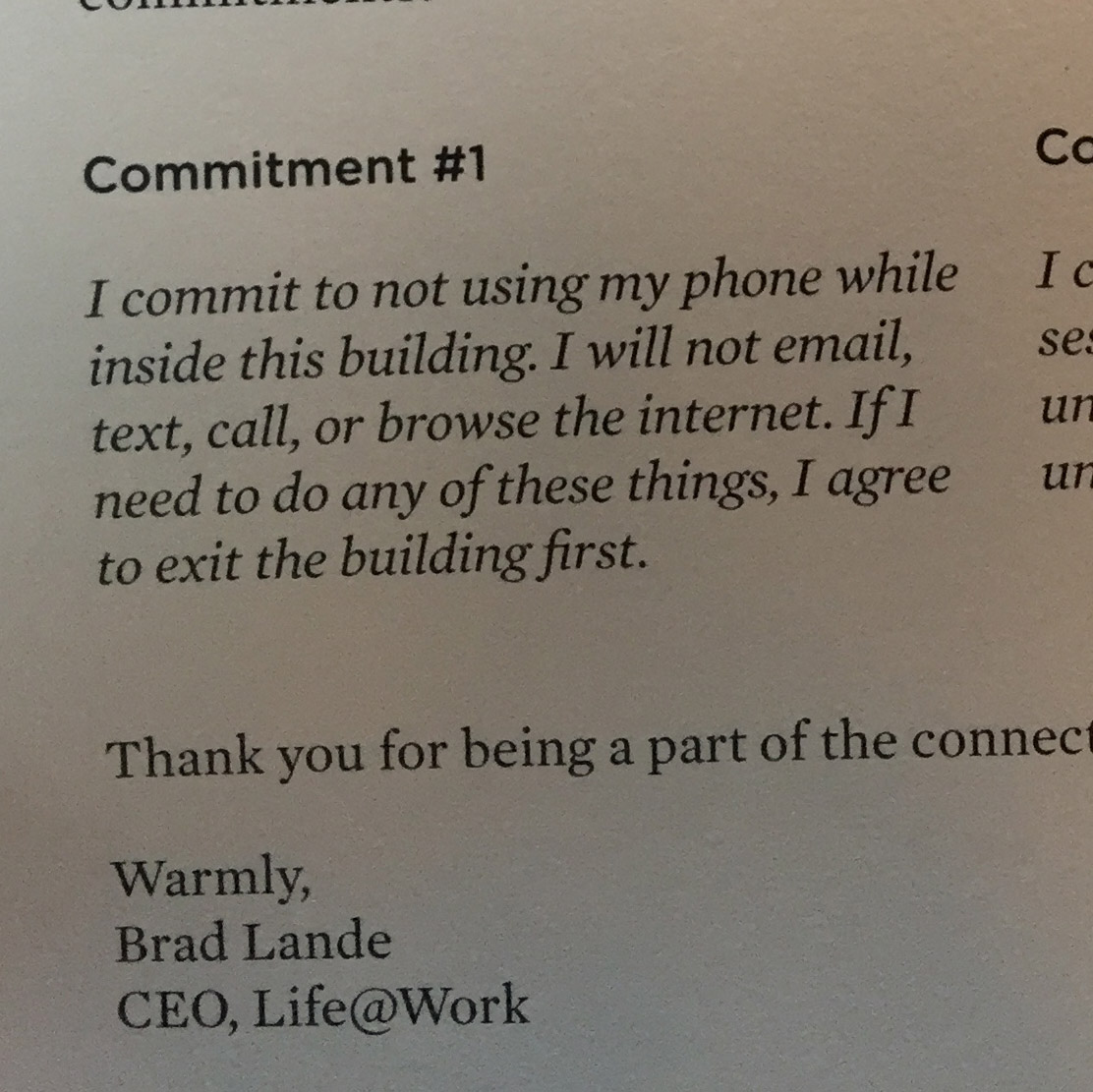 Phones away …
1. Improve your meditation with a goal. That doesn't sound very authentic, or meditation-y, but Stephen Sokoler of Journey Meditation led a short morning session each day which was very effective, adding a word of intention (what we wanted in our mind that day) to our mindfulness.
2. Uncomfortable Truths are good, but be careful what you wish for. The opening session, "Freedom and Fairness Fishbowl: Growth and Connection Through
Difference," was a keynote roundtable of six accomplished guests designed to spark difficult conversations about race, gender, orientation, and other areas of difference. It was expertly and symphonically facilitated by Larissa Conte of The Ready and Gabriel Wilson of Developmental Design. But in a huge room of people you haven't met before, turning to the person next to you to share an uncomfortable truth, you're never quite sure what you're going to get. I got a faceful of what I could call victim-blaming, and I responded with a lecture—was I engaging in the spirit of the exercise or enjoying the role of the ally? (Mediating Buddhist, confront thyself.)
3. And speaking of, is your museum open to uncomfortable truths about colonialism, oppression, racism, and sexism inherent in so much of its practice? The session ended with a final exercise for the audience—provide wisdom from our future selves. Despite the optimism of the event, at that moment my vibe had my future self speaking from a troubled world. Yet he still said to my current self, "You didn't change everything you wanted to—*but it was still worth it to try."
4. Get to know each other. We got a video greeting from Liane Hornsey, the Chief Human Resources Officer at Uber, who, ironically, was unable to attend due to various HR crises at Uber (now if there's a company less like a museum than Uber, I'm not aware of it, and not just because of the lack of scandal about working conditions, the work of blogs like Leadership Matters notwithstanding). How does a museum get the trust of its staff, especially at lower levels? In the field? (Stay tuned for the #MCN2017 closing plenary for a discussion of this very topic!) But the lesson of Uber, and also leaders from Airbnb and Esty the next day, was to get to know each other across the organization in order to build trust—and it's the role of the institutional leadership to make this trust possible. At The Met, for instance, what did the museum's new logo in 2016 mean to the staff? It was weird, a tech-platform company talking about a staff member of a nearly-150-year-old museum about humanism, but these are weird times.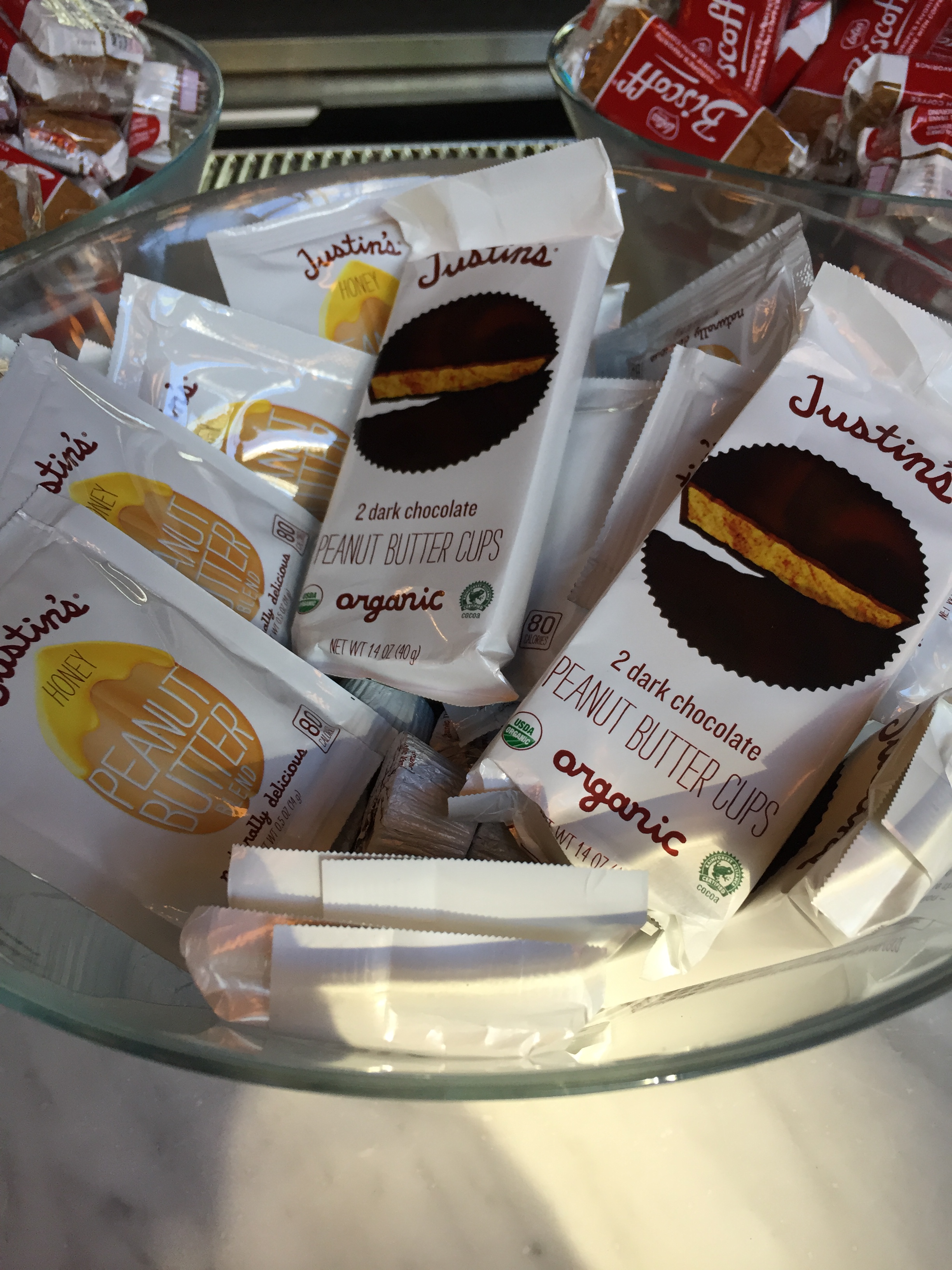 And before we meditated, there was peanut butter. My kind of conference.
5. Physical space matters. A trio of sessions addressed the importance of physical workspaces on organizational culture. John Reid-Dodick, Chief People Officer (museum friends, take a drink every time you laugh imagining this at your museum) at WeWork, didn't address physical space per se but his presence made me think about how flexible workspaces at a museum could help the generally poor office infrastructure in museums, how conceptual silos are reflected in physical offices. Reid-Dodick did talk about his experience merging the legacy cultures of Thompson Financial and Reuters, and how values are a conscious decision on the part of senior management. Hear that? You can change.
Two breakout sessions were more explicitly about the physical work environment. Erinn Cerreta-Bartko and Joseph White from Herman Miller, which one could say "design thinks" furniture, or maybe is a tech company with furniture as its platform, ran a session called "Fundamental Human Needs and the Total Experience of
Work," sussing out workplace emotional content keys such as autonomy, security, belonging, achievement, status, and purpose. All of these were discussed in groups in terms relating to physical workspaces—autonomy, for instance, as an expression of trust that we can work with accountability in different kinds of spaces inside and outside our offices. One important lesson was that the better stories from the groups were positive–it was too easy for me to come up with a negative story about the not-always-generous workspaces in museums.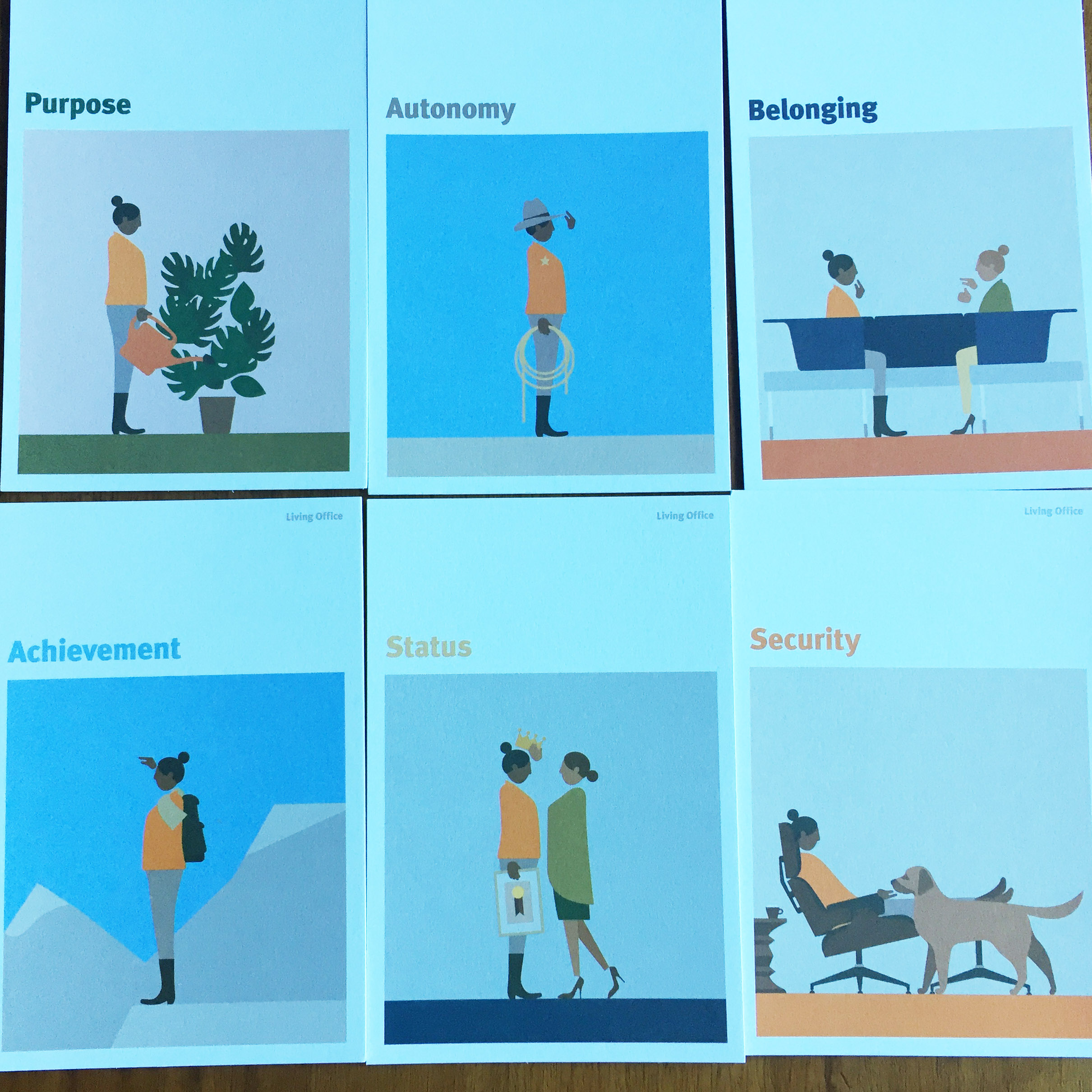 Pick a card … every card … [cards from the Herman Miller breakout session]
Brad Zizmor and Dag Folger, founders of multidisciplinary architecture firm A+I, followed with a breakout session which got into design solutions which made staff feel needed—how can an organization tell an uplifting story to its public/customers and not to its staff with the physical spaces they spend at least 1/3rd of their days in? In a museum, the disconnect between grand galleries and expensive expansions, and the afterthought of office space (or, even after a renovation, maintenance is the afterthought), is galling. After all, no one at The Met calls their workspace "the Great Office."
6. Stop reinventing the wheel. There is a LOT of research out there about improving the interaction of people and workplaces. Steve Semelsberger, President, Individual Transformation Practice at SYPartners, gave a quick rundown of some of the best—and if you've read this blog it's been a part of my bottom-of-blog reading list. (Read his full list below). What you get out of this research (besides the fact that there has been a LOT of psychology research done) is that it is possible for people and workplaces to HEAL. Well-being, Semelsberger said, can be learned. It's a chore reading books like this now—who has time?—but important for those of us who want to improve our workplaces, especially in museums, where we have an added burden of subcultures which may appear to have opposite goals and which have learned to identify as having unique expertise.
7. Do we know our purpose? Trace Cohen, CEO of brand design firm 214, spoke about brand (oh, shit, we're not going to talk about museums and brand, are we?) and while that seems all-too-corporate to museum denizens, it's important—what actually is our brand? What do you hate more—your logo, mission statement, or strategic plan? What does it mean to an organization when people don't agree on the mission and values, or don't care? In the final conversation of the conference, Khe Hy, entrepreneur-in-residence at news website Quartz spoke with Adam Bryant of the New York Times's Corner Office and NYT Live (soon to be retiring) about the latter's experience interviewing hundreds of CEOs—Bryant's most remarkable memory was how few CEOs knew their company's core values. In which case, how can you expect your people to? As Cohen said, "Do you know your why?"
If museum leaders want their staff members to know their why, they best make staff's reasons for coming to work intrinsic—joy of work, purpose, potential—rather than external and indirect—guilt or emotional pressure, economic pressure (having to keep a job to pay the bills), or inertia, staying somewhere just because. This came from Neel Doshi, co-founder of Vega Factor and a former partner at McKinsey & Co., as well as co-author of Primed to Perform. Doshi demonstrated this by giving the audience an easy math problem to solve, indicating when they'd finished—and then praising a random group of people who raised their hands, including me. He then had four of us, me included, stand and gave us another problem to solve, which was much harder—even excruciating!—with the external pressure of all that attention. The lesson for museums? Almost all museum staff started with a love of what they do, but the competition for rewards and resources muddies the waters (and rewards the most extroverted?). "Culture," Doshi said, "is what gives people their why."
8. Is there org culture on Mars? To start out the second day of the conference, all the attendees got on the floor and engaged in a role-playing card game developed by org culture firm The Ready and narrated by company founder Aaron Dignan (the keynote speaker at the Responsive Conference in September). This simulation of the founding of a colony on Mars was challenging and fun, and went on for over an hour, as we navigated ourselves in groups of eight (each person drew a card which gave them a particular role and a preference for one of six colony resources) through a series of crises which would impact selected parts of the colony's physical safety and mental well-being. Rules limited communication and proscribed decision-making. What happened? Well, I was made "captain" (ha) of my group of eight, and thus I had to make arbitrary decisions about which resources we would invest in and which we would ignore. The lesson for me was that decision-makers have to be open to the expertise of others; some of my early decisions badly hampered the development of our colony and we barely survived. Another rule, which forbade communication between team members, effectively simulated silo culture (hello, museums!), while another rule forced teams to repeat their decisions—good or bad—for the next round. Fortunately, teams could, after a few turns, discard one of these rules—assuming the colony survived long enough!
The key takeaway, according to the winning teams, was for each team member to follow the role on their card, pushing for what they valued and where they had expertise. (Interesting—though as an Aquarian contrarian, no card is gonna tell me what to think!) Another comment from an attendee was that team members (often women) with good ideas were unable to make their voices heard—and that did happen in my team. Increasing equality and input is important. From a museum point of view, I wondered, can games help develop camaraderie and decision-making expertise?

Mars will have cool violinists
9. What does a museum's brand proposition mean to staff members? Getting back to brand, the talks by leaders from Etsy and Airbnb seemed to me to have plenty of relevance to museum workers. One thing both companies did to align internal and external values was to have staff be in touch with users—tourists and hosts for Airbnb, and makers/sellers for Etsy. Every staff member has to, to quote Carissa Menendez, VP of People and Workplace at Etsy, "Own the purpose of your company." What does that mean to a museum? Well, one idea is that more staff would be rotated into visitor-facing areas, even for a temporary period of time. Should publications staff work in the bookstore for a week? Or label team members should stand in the galleries with the labels they worked so hard on? Etsy also faced layoffs this past year, and Menendez recalled that staff members were asking, "Is this the same place it was when I got here?" Even museums in good times will find staff asking that—have our values drifted? Does the institution still reflect my values? Digital departments aren't responsible for culture change—they were hired by senior staff with the approval of boards, presumably—but their arrival often heralds questions about culture.
10. The value proposition. We heard from speaker after the speaker about the importance of matching company values to staff values. One quote: "values aren't created … they're uncovered." Values have to have meaning, relevance, and mutuality, according to Didier Elzinga of employee engagement dashboard maker CultureAmp. And values can only be developed in an area of trust and vulnerability. And in a museum, where expertise and authority is at the core of so much of our work, vulnerability is difficult. Two other good quotes from Elzinga: 1) "We borrow our time at work from things more important to us," and 2) "People who say something is impossible shouldn't interrupt those who are doing it." (credited to George Barnard Shaw)
So, to sum up:
Good companies align internal and external values as consistently as possible. You shouldn't have to fight for your internal sense of yourself.
We have to know each other better. All of the above only work in areas of psychological safety and trust. We can't share uncomfortable truths with total strangers at our own museums, that's worse than just sharing them on the street.
We can't change culture JUST by talking about culture. But just like with global warming, we have to acknowledge that culture exists and that it needs to be discussed. And we should read more about culture at work—and if we have colleagues who say, "I don't have time to read about something not directly job-related," then we're not defining "job-related" strongly enough.
Not everyone feels they need to grow or develop in their job. But that shouldn't be allowed to veto the efforts of the people who do want to develop—and insist that their institution help in this. Museums can no longer assume that the same academic rules apply—once a tenured prof, you never need to grow. The world no longer works that way.
Life@Work was a great conference. It was a little rough around the edges in places, but psychologically astute and made the connections between growing as people and growing as companies plain. I would have liked to see some discussion of "contested workplaces," where the culture is not universally agreed-upon, and more action steps (which was the intention of the conference, but we ran out of time in day two) and practices to take back to our workplaces. I hope to attend in future years!
What I'm Reading:
I'm reading a few things, but for today I'll stick with the org culture reading list provided by Steve Semelsberger of SYPartners. This list is a who's who of foundational psychology related to organizational culture: