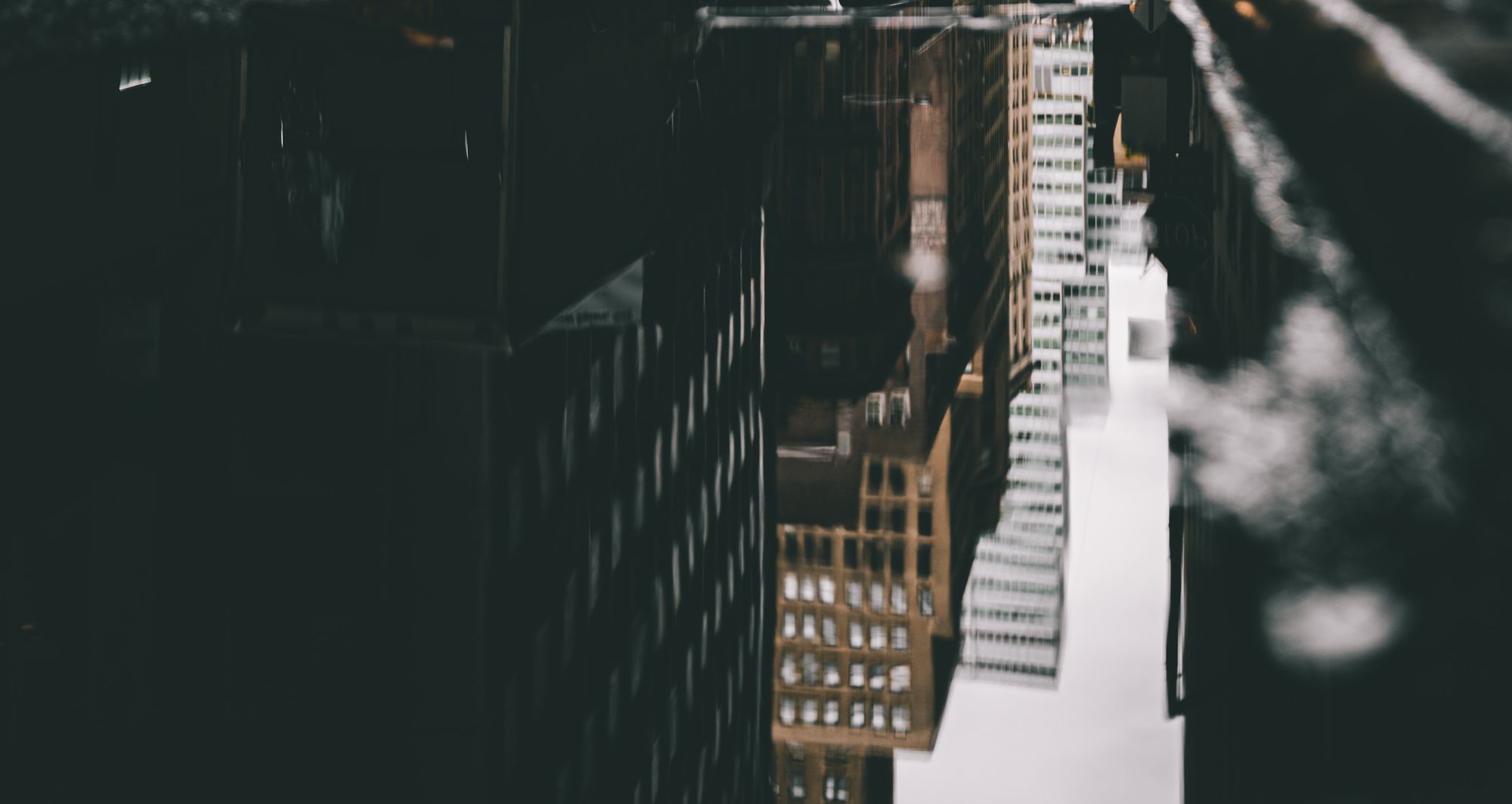 12 min read
Two simultaneous museum conferences, on opposite sides of the country, highlighted two different approaches to fixing what's wrong with museums.
After six straight years attending the Museum Computer Network's annual conference (including two years as program co-chair), in November 2019 I stayed in New York City and attended the MuseumNext fall conference "The Future of Storytelling."
Though I missed my museum-sector colleagues who were in San Diego for MCN, this group is very active on Twitter, which made it easy to follow the conference from afar.
What I heard at MuseumNext and what I read from MCN provided some enlightening conclusions about organizational culture in the museum field.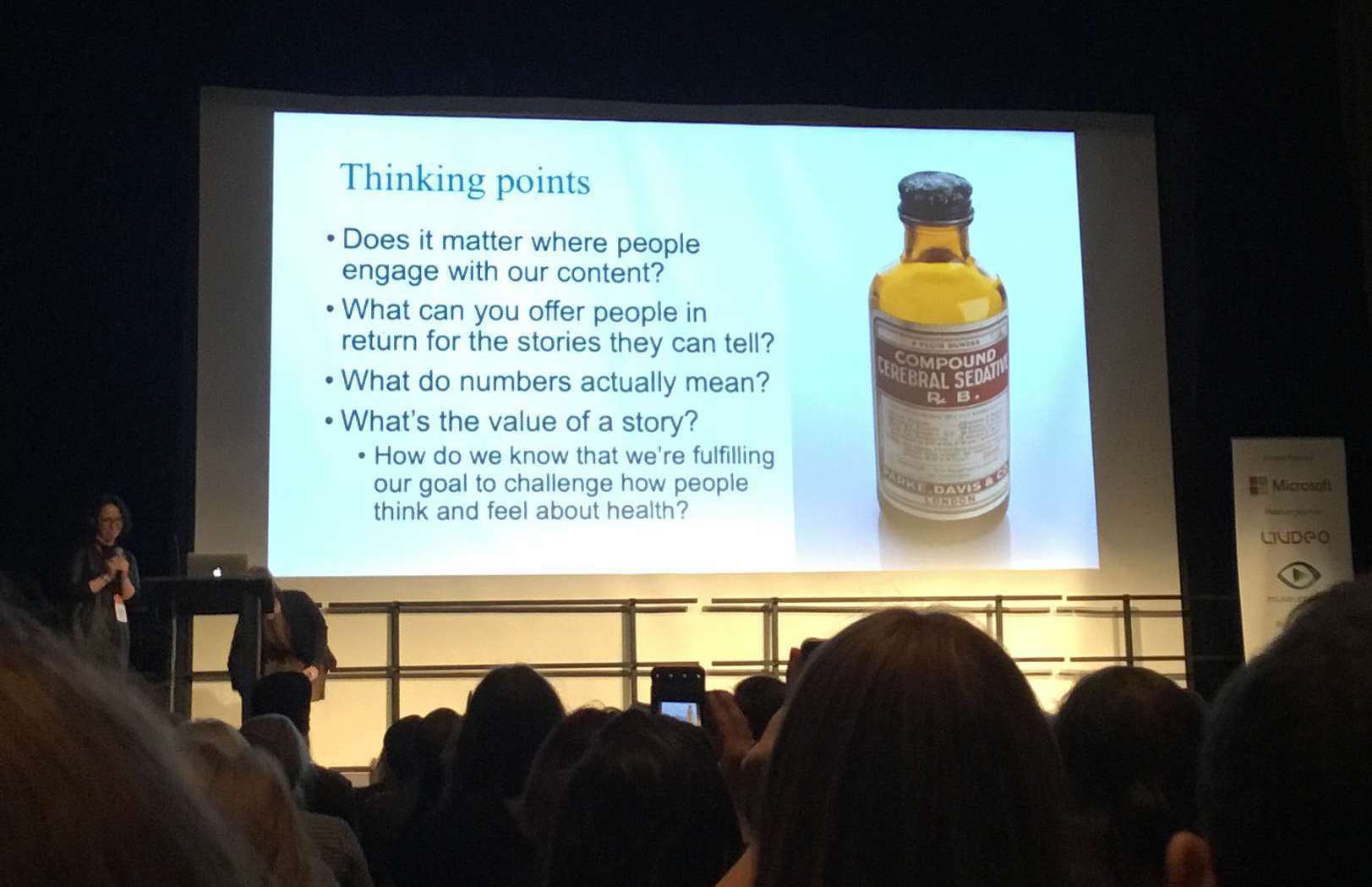 (Note: since the photos in this post are from MuseumNext presentation slides, I'm making the text of the slides available at the end of this post.)
In this post I'll focus on the feel of MuseumNext compared to what the two conferences and the way they're approaching the existential and very real problems in cultural institutions, through my preferred lens of institutional culture and organizational design. (Got a hammer, everything looks like a nail, I know.) For other considerations of the conferences, start here for MuseumNext and here for MCN.
Rebooting my museum conference self
I'd been told by friends who'd attended earlier editions of MuseumNext that sitting for two full days in a single room for TED-like talks can wear one out, and I would agree. (To be fair, three-and-a-half days of MCN's wonderful panels, workshops, and talks is plenty tiring.) I experienced some imposter-syndrome déja vu; as a museum publications department professional, with a side obsession about how people work together, it had taken me a few years at MCN before I felt fully comfortable in a space where the discussions were about the digital.
Over the past few years MCN has expanded to discuss in-depth the nature of human relationships in digital spaces. It didn't take long for me to feel at home at MCN, speaking about the opportunities and human costs of a highly technologized cultural-sector workplace.
MuseumNext was a room of museum professionals devoted to visitor experience, exhibition design, and community relationships. But now that my museum work has shifted to focus on object labels. Seeing the labels I typeset on gallery walls, and the large-print label booklets I produced in the hands of visitors, has made clear that my work is visitor experience. As all our work is.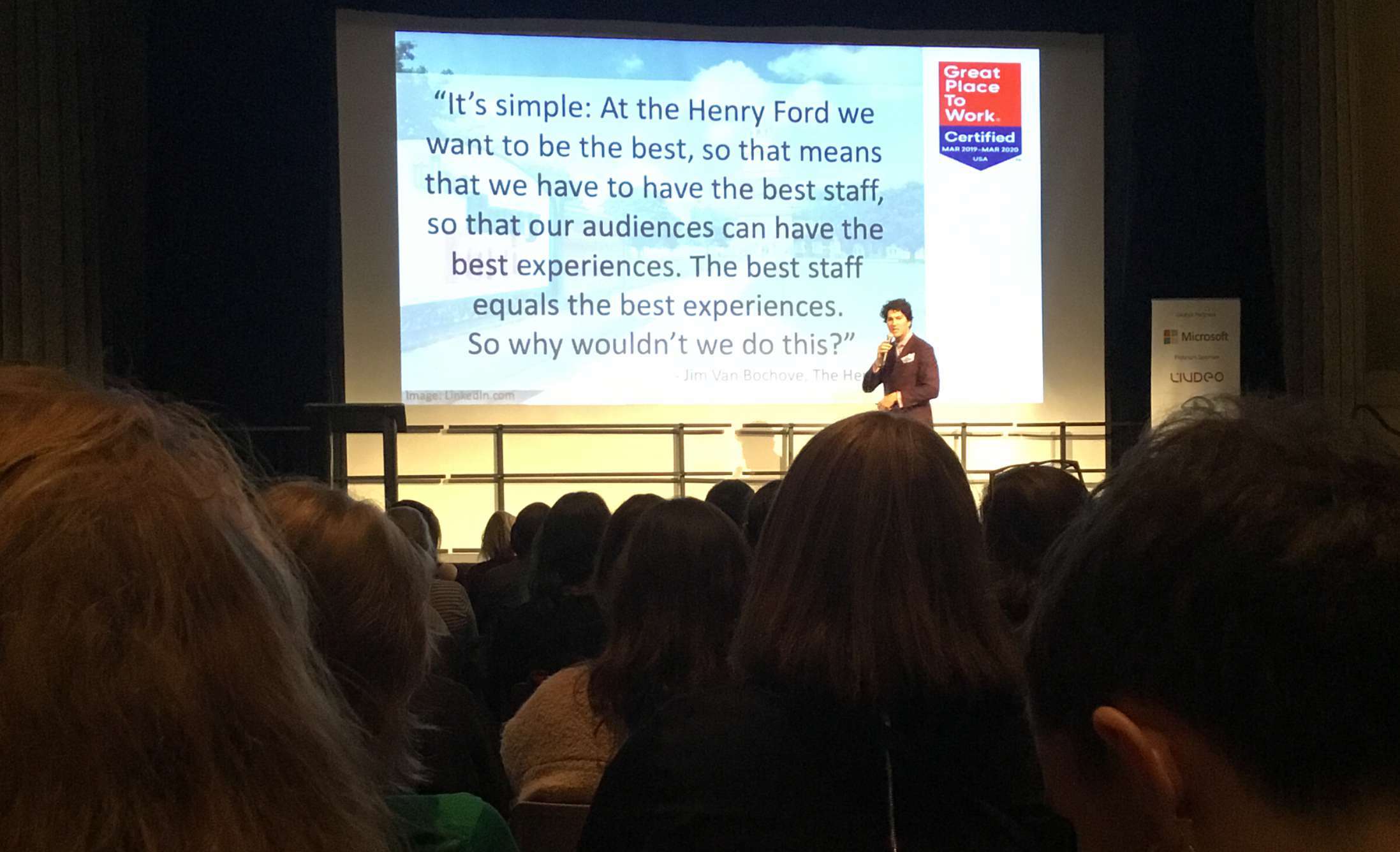 The only MuseumNext speaker who addressed internal museum culture was Adam Reed Rozan, Director of Programs and Audience Development at the National Museum of American History. He made clear how poor workplaces lead to poor visitor outcomes. Rozan cited The Henry Ford as a "certified" great place to work because of the alignment between the calling that museum workers feel for their work and the reality of working at this organization. (I haven't vetted this statement with colleagues at The Henry Ford.) Museums are sick as workplaces, he says—and he'll have a hard time finding museum staff who disagree.  
The Future of Storytelling Is Impactful Not Empathetic
MuseumNext started with a powerful talk by immersive filmmaker Karen Palmer, who discussed her film RIOT, a first-person experience where the narrative changes based on the viewer's reactions. As a long-time empathy-phile, I interpreted Palmer's goal to improve the empathy of the film's user (a better term than "viewer"), but when I spoke later with her at the evening reception at The National Museum of the American Indian, she made a compelling case that her aim was to go beyond empathy. Her film is meant to confront viewers with their fears as a path to real change.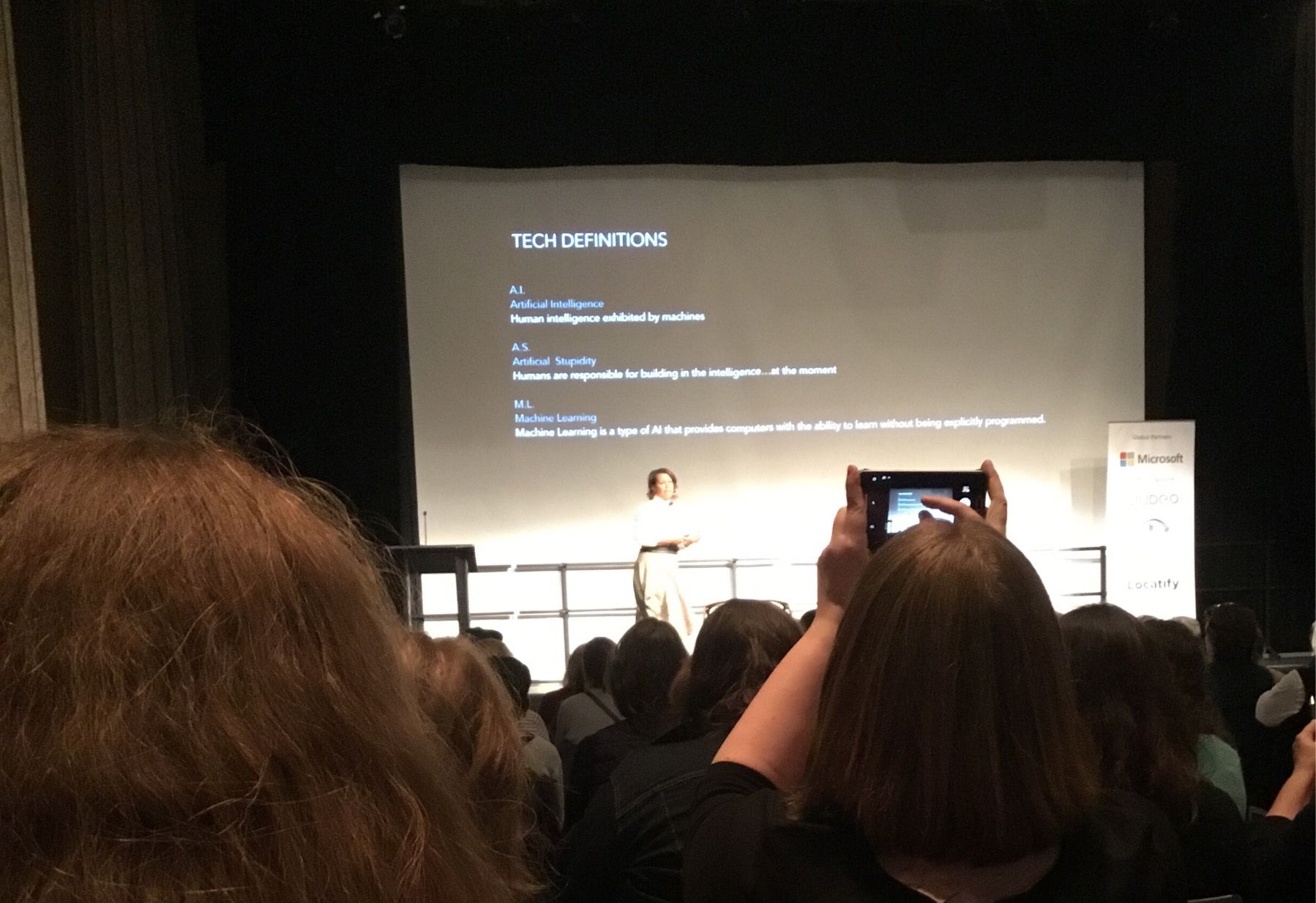 Empathy might have its benefits, she told me, but strong emotions lead to change and power. Tech companies and politicians have learned this all too well. I'm glad Palmer took the time to explain her ideas to me. Impact, not just intention, should be the aim of the cultural institution.
The next talk, by Tedi Asher, neuroscientist-in-residence at the Peabody Essex Museum, brought home this point from another angle. Asher presented preliminary findings suggesting that arousal (not in the sexual sense, but in terms of strong emotions) is a better pathway to memory formation. She was clear that the findings came from a small sample size with no proven causality, but this is another instance of change through strength, not just good intentions. I concluded that empathy can aid in starting better processes through listening, but in terms of change empathy is only a gateway.
Across the country, museum planning consultant Kate Haley Goldman, in her talk at MCN, pointed out another weakness of empathy and human-centered design. These practices can reinforce othering. Empathy can be harmful if it's treated as the end point in design, user experience, or co-creation. It focuses us on ourselves versus others and further distracts from structural problems, making the solutions personal and internal only.
Empathy has an important role in project management and journey mapping and coming up with better processes, but structural problems will not be solved by empathy. We must confront fear through collective action. This holds true for workers' rights, climate, immigration, and human rights.
We Have Power, People
Something else which came out of Karen Palmer's MuseumNext talk—museum professionals (below director and board level) are still reluctant to acknowledge that they have power. Not just to change their institution—collective action, such as unionizing, helps—but in society, through their usual combinations of whiteness and elite education. We can't let self-imposed financial and time scarcity within our organizations obscure this simple fact—that's how impact gets blunted.
Back at MuseumNext, MICRO museums hasn't let the power differential between large and small museums keep them from having impact on public spaces. This team creates one-kiosk museums to maximize visitor experience in a small physical package. The museum field will only change if the creation of museums becomes more democratic, said MICRO co-founder Charles Philipp during his MuseumNext presentation. Though some attendees were skeptical that MICRO's six-foot-tall objects were really museums, the team's passion for science (as described to me by co-founder and trained biologist Amanda Schochet) and the public mean MICRO belongs every bit as much as larger institutions.
Power differentials also impact whether people who feel welcome in museums. Dupé Ajayi, Intersectional Marketing Strategist at The Shed in New York, has done the hard work going out into communities to bring people to the institution, with techniques like discounted tickets and a welcoming atmosphere for all visitors. This is even more impressive considering The Shed's bad press because of its location in the new "billionaire's playground" of the Hudson Yards development on Manhattan's far west side.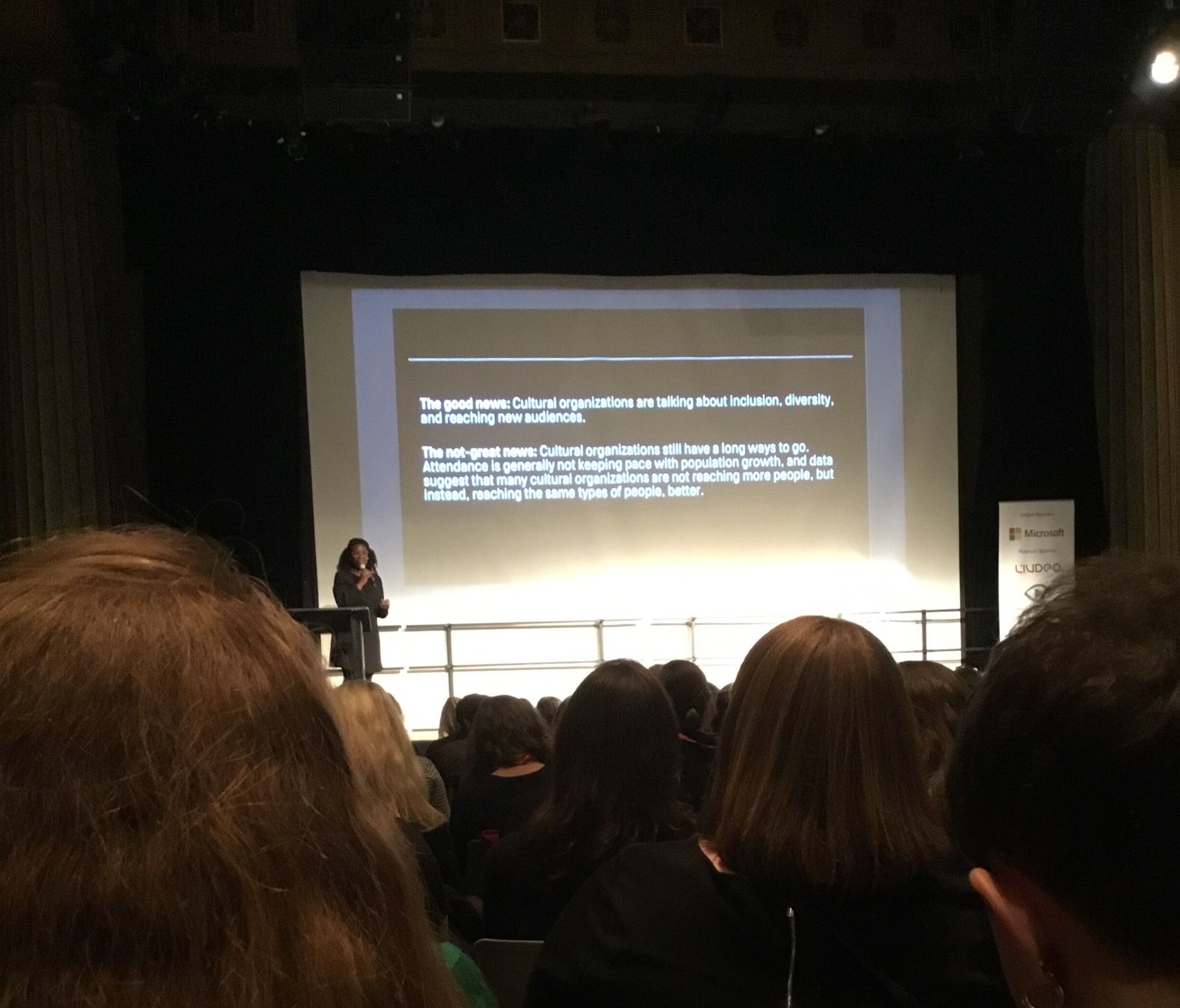 Seen through a lens of flipping the script of relationships in museums, I started to realize how many of the presenters at MuseumNext were democratizing their institutions.
The Wellcome Collection in the UK has done great work in opening up their practices to the promises of digital in museums. Digital Manager Alice White and Social Media Manager Kirsten Riley described an organization aware of its power which then took a step back from control through audience "takeovers" of institutional social media and blogs. The Wellcome (read their perfect blog post on digital transformation in museums) put their money where their organizational mouth is. They don't just invite the audience to create content, they offer guidelines, support, and payment for content. All museums interested in co-creation (which should mean all museums) must take heed.
David Eng, Chief Marketing & Communications Officer at the Tenement Museum in New York, located the secret sauce in targeting impact before, during, and after the visit. The Tenement Museum follows up on visits with emails to see what changed in the minds of visitors because of the museum. They start from the common American stories of the "right" immigrants who came through Ellis Island but then lead to engagement with new stories of more recent immigrant communities. It's a good use of playing from the institution's strength, and it's no wonder that the museum is so well respected for its messages and impact.
There were numerous presentations with strong local angles. One from Philadelphia (here and here) featured Bill Adair of The Pew Center for Arts & Heritage with Professional Storyteller Denise Valentine. Pew provides the backing for community stories created and told by community members. Another was by Ayanna Muhammad of the Hip-Hop Museum in Washington, DC. The Hip-Hop Museum looks for local places to center that particular city's take on this art.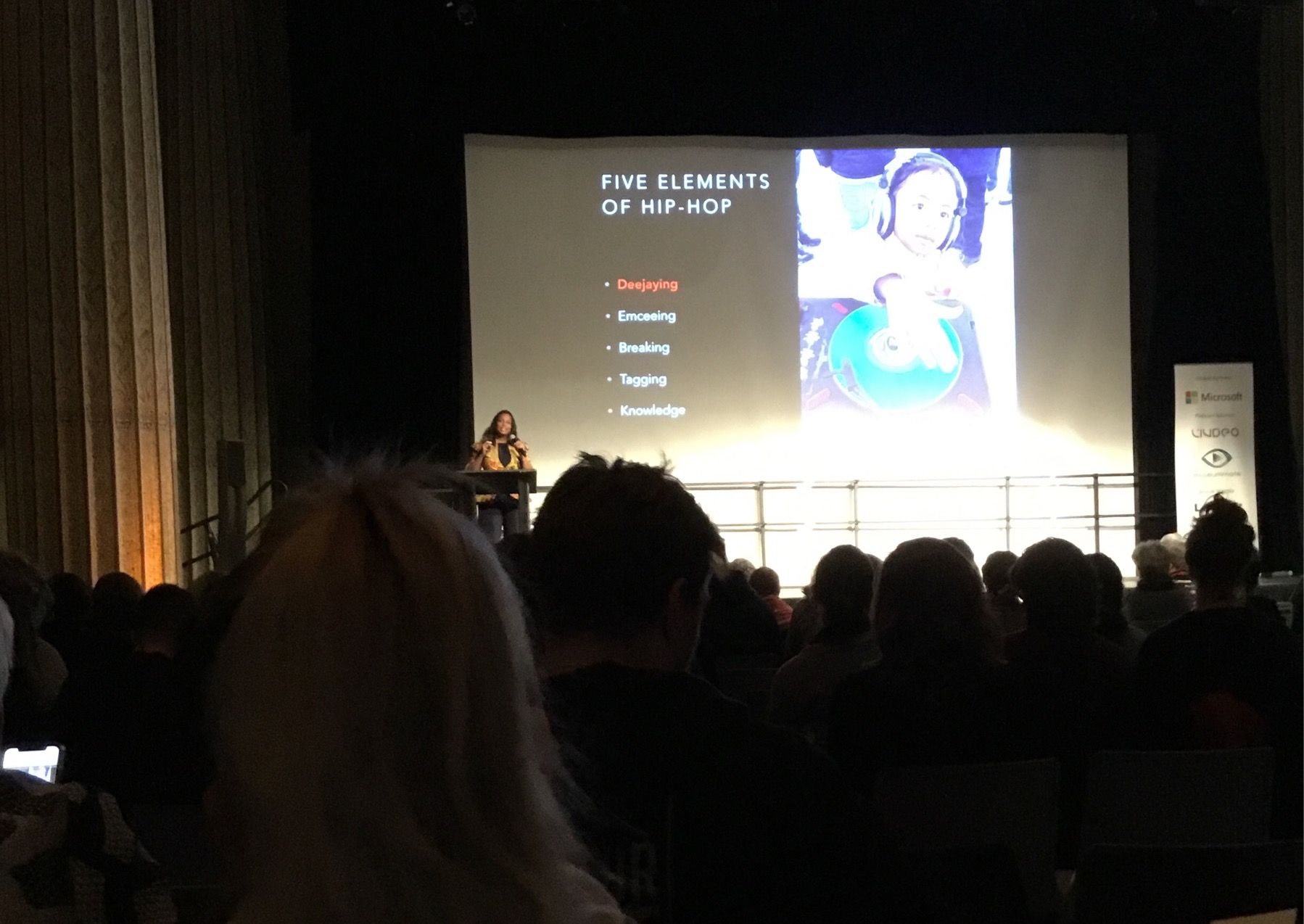 Every presenter spoke about an aggressive focus on visitor impact and a willingness to experiment. Iterate has achieved buzzy status as a workplace term, but any organization which does not allow for varied approaches to a wide range of outcomes is not going to achieve important results.
But how do institutions cultivate this experimental culture? Museums under organizational pressure often pull back to a set of core priorities in order to prevent too many projects. But are they cutting off a real source of energy—the staff, including those closer to the audience—before it develops?
The Human Impact of Museum Technology
If MuseumNext brought home the end result of visitor impact through storytelling, then MCN has increasingly asked the question, what are we doing with all this tech? (And vice versa.)
(If you want to read more about MCN 2019, go through the excellent tweets and see the list of blog posts I mentioned above. In particular, check out this honest take from a first-timer, this deeply personal view from someone I had originally planned on presenting with about project management in museums, and this great post from a fellow empathy-phile.)
Humans working in—as opposed to owning the means of production of—tech will always feel its limits. Museum directors want the shiny and new, as leaders usually do. Visitors have a set of demands, not all of which are directly expressed or felt. The impact of museum technology on the staff hasn't been addressed enough, I think, and not just about what a digital workplace does to people beyond the constant barrage of emails.  
The result has been an existential crisis for museum technology. Just ask people in museum social media and the session on social media burnout at MCN. In trying to serve the public and society—just like the MuseumNext presenters—we facing a museum scarcity mindset which keep us from having an impact on our world.
The first step is taking on the structural oppression of scarcity in our institutions. That talk is already going on at many museum, in offices and conference rooms, informal gatherings AND department and staff-group and all-staff meetings, and in less-hushed tones.
Perhaps all those talks about empathy at MCN have led to this moment. Maybe MuseumNext presenters were getting there as well. Maybe a museum conference needs an ongoing moderator or mediator to record how the conversation is going, so that when people head home they can take a statement with them—this is what we did, this is what we do well, this is what we do badly, this is what we are going to do better.
Maybe there's a way for museum staff to give talks and be on panels within the institutional framework, or as part of local events. Internal blogging and hackathons might be a start, if we can tackle that teensy problem of activity level.  
After MCN, someone asked about these kinds of ways to keep the conversation going, to revisit it during the year between conferences. It heartened me to see that a few attendees joined me in mentioning #MCNergy, the peer-counseling and -problem-solving sessions I organized, with the help of many others, at MCN in 2017 and 2018. Maybe we already have some tools to keep impact going. But we have to fight together the structure so that we can be our best selves, for our audiences.
Meanwhile, Out among the Visitors
I work more on labels now, in production, workflow, and cross-departmental cooperation. My favorite experience working in a museum has been in the past year, going into the galleries during installation or business hours, to arrange a large print label booklet for visitors with disabilities or to figure out layout for several dozen small object labels. While me and six other staff—curator and curatorial administrator, graphic and production designers, editors—were working, visitors continued to walk around us, maybe wondering what we were doing. In a quarter century I haven't felt so connected to the visitors. This is what I want to do, I thought to myself. And then, what more can I do? And how else can I support other staff and visitors by doing more of this?
It's these moments of connection which give me hope. As I learned from Karen Palmer's talk and our later chat, it's not just about empathy. It's one thing to try to see the visitor experience through the eyes of a colleague like a curator, or even another visitor. Our cultural organizations need a more free-flowing structure of experimentation and safety, as well as better support of all staff, to make this happen. Perhaps we need to go a little deeper into fear—and sometimes the fear of not impacting our visitors is a good place to start.
---
Text of slides in photos from this post
Text of slide from the Wellcome Collection talk
Thinking Points:
Does it matter where people engage with our content?
What can you offer people in return for the stories they can tell?
What do numbers actually mean?
What's the value of a story?
How do we know that we're fulfilling our goal to challenge how people think and feel about health?
Text of the slide from Karen Palmer's talk
A.I.
Artificial Intelligence
Human intelligence exhibited by machines
A.S.
Artifical Stupidity
Humans are responsible for building in the intelligence … at the moment
M.L.
Machine Learning
Machine learning is a type of AI that provides computers with the ability to learn without being explicitly programmed.
Text and description of the slide from Tedi Asher's talk
The default mode network (DMN) is activated by emotionally moving aesthetic experience.
Below is a triangle with "very emotionally moving" at the thicker bottom and "not emotionally moving" at the narrow top.
There are four pairs of brain scans on the right side, showing greater activity during times of emotional arousal leading to greater memory formation.
Text of the slide from Dupé Ajayi's talk
The good news: Cultural organizations are talking about inclusion, diversity, and reaching new audiences.
The not-great news: Cultural organizations still have a long way to go. Attendance is generally not keeping up with population growth, and data suggest that many are not reaching more people, but instead, reaching the same types of people, better.
Text of slide from Ayanna Muhammad's talk
Five elements of Hip-Hop
Deejaying
Emceeing
Breaking
Tagging
Knowledge
Text of slide from Adam Reed Rozan's talk
"It's simple: At the Henry Ford we want to be the best, so that means that we have to have the best staff, so that our audiences can have the best experiences. The best staff equals the best experiences. So why wouldn't we do this?"
A logo in the upper right corner of the slide reads:
Great
Place
To
Work
Certified
Mar[ch] 2019–Mar[ch] 2020
USA
---
post cover image credit: Lerone Pieters on Unsplash, photo cropped by author
---

Will TED Talks or Tough Talk Lead to Better Org Culture in Museums? by Robert J Weisberg is licensed under a Creative Commons Attribution-NonCommercial-ShareAlike 4.0 International License.
Based on a work at https://www.museumhuman.com/will-ted-talks-or-tough-talk-lead-to-better-org-culture-in-museums.