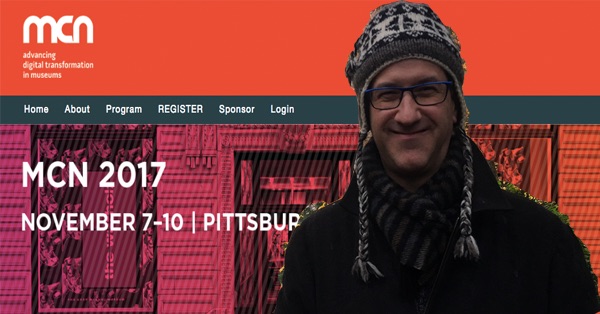 9 min read
The Museum Computer Network 2017 conference was heavy on change, leadership, and navigating the org chart. Have we entered a "post-digital" era of "always be changing" in museum technology?
Over the past few years I've traced something of an evolution of MCN's annual conference from a tech-focused gathering to something more … well, I hate the word "soft" when we talk about people skills. But something is pushing the museum technology world to humanist approaches to our institutions and their problems.
Last year was all about The Human-Centered Museum; in my write-up of the 2015 conference I was already using the term "post-digital." After MCN 2014 I was discussing being a change agent, while I suggested after MCN 2013 (thank you, Wayback Machine™!) that the conference might better be called the "Museum Content Network."
Maybe it's just where I'm coming from—despite my ostensible tech role in The Met's publishing department, I've always thought of my role as managing people and their expectations of and experiences with technology—but it seems every year I write about what MCN is changing into.
Having never worked on anything of the scale of MCN—with 600+ attendees and 132 sessions over four days—my fellow co-chairs [Jennifer Foley](https://twitter.com/Jennifer_Foley) and [Trish Oxford](https://twitter.com/TrishOxford) did an amazing job coaching me along. I'm looking forward to bringing two new co-chairs on board (call for applicants will go out soon!) and happy to pass along the wisdom of thousands of conversations over the past ten months.
One of my proudest achievements of this past MCN—bringing innovative formats to the sessions. Rather than have various unconferences going on around the main event, we asked participants to consider proposing sessions outside the usual case-study-or-panel format. We got over two dozen proposals and accepted a variety of them, from all-day sessions to 90-minute roundtables to a "slow disco"! I can't wait to see what the next group of proposals will bring.
I usually do 10 takeaways in my conference write-ups, but I think the points about MCN are broader, so I'll keep it to three and change.
Change, and not a moment too soon
*Is your institution undergoing a … regeneration?*
I worked with Seema Rao of Brilliant Idea Studio (watch her Ignite talk here) on the session "Change: Not Just Surviving, But Thriving"—and also a soon-to-be-published book (read our bibliography here) on which the session was based. We'll post more soon about both our session and the book.
Ours was one of three sessions explicitly on change, along with the panel "Managing (or Surviving) Organization Change" and "Slow Change: It's Not a Consolation Prize," an experimental "slow disco" format session organized by Rachel Ropeik (the session was not recorded to encourage open discussion and personal growth, but here is Rachel speaking at the opening-night Ignite session).
So why the emphasis on "change"? I'd like to say that we captured a moment in the museum-field zeitgeist about tackling longstanding problems in our institutions. But I think it's more than that—it's no longer just enough to be upset about either ill-considered changes inflicted upon us or stasis keeping our jobs unpleasant. I think the concern about change is how to take action …
The Keynote of Three
![](/content/images/2017/11/keynote-image.jpg)
The discussions about the theme of this year's MCN, which resulted in "Looking Back, Thinking Forward, Taking Action," touched on how we could address problems we saw at every level—institutional, community, society—often without having the direct organizational authority to do so. I felt that everywhere at MCN this year—how do we act?
The same Program Committee which came up with the conference theme also recommended a team of keynote speakers participating in a conversational format—Aleia Brown, Adrianne Russell, and Jamil Smith—on the conference's opening morning, followed by an action-oriented Q&A session. The keynote included a live-question feature that allowed audience questions to be upvoted on screen, any of which the keynote speakers could choose to discuss.
Unpacking white supremacy in the museum world (and surrounding/supporting society—see the blowback to the New York Times' Nazi-next-door article) may not seem the usual matters for a museum technology conference, but the program committee believed strongly that the promise of digital is what you do with it. (See the million articles on Facebook and the monetized bubble-ocracy.) Taking Action on the personal and institutional level is impossible without confronting what our organizations are for and against—and that's too often anything not white (and for museums, not white nor elite). Having two museum-field professionals—Brown and Russell—on stage with a journalist—Smith—led to a wide-ranging discussion that touched the intersections of museum culture and confederate monuments, the NFL kneeldown protests, and pop culture, but always back to the "thing" that is whiteness, tied up with capitalism, which inhabits and props up our museums in our communities.
How to lead from this understanding to action? "Join[ing] the conversation already in progress," as Russell said, is one place to start. Don't fall into the trap of separating yourself from Trump just because you're outraged at his election is another, according to Smith. And go beyond thinking of yourself just as an ally, which can be a passive definition, is another, as per Brown. (You can see how the conversational nature of the keynote added to the impact of the words as the three speakers built upon each other's points.) Use the term "co-conspirator," Brown suggested. (I like "partners in crime" for my fellow change agents at The Met!)
Russell added that museum acquiescence in white supremacy is reflected in the ways that institutions take advantage of their nonprofit, non-corporate status to pay low wages or not pay interns at all. (The conference discussed this in the closing plenary.) She said institutions needed to avoid over-credentialing, which also puts up barriers for people outside traditional pipelines to gain entry into museum workplaces.
Don't "latch onto the idea of 'bravery'," Smith said, which is self-serving and too easy to pawn off on other people who aren't thinking about being brave, but just trying to survive, as Russell said. "Bravery is a privilege," Brown said. "Have the bravery to do what people have to do every day." Elevate the work that's already being done, she added. Put the change you want in words, Russell said, so that written core values will become part of the narrative of the institution, and then people will eventually be held to that written standard (think of our fuzzy job descriptions, people!), and HR will evaluate staff as such.
"It's why I love blogging and social media," Russell said. "People who need your message will find you." "Use technology to reach people's hearts and souls," Smith said, adding later, as a journalist, "Increase the amount of useful information in the world."
So how to take action? My personal credo now, building upon answers from all three speakers—start it yourself, but you can't do it alone. And technology is a way to connect with the other people you need to take action together.
I'm going to remember the privilege of standing up on stage with Brown, Russell, and Smith, as the moderator of the Q&A session, for a long time.
Oh, this field …
So why do I think MCN is turning into the Museum Change Network? Our love/hate relationship with the field was discussed frankly by Jenn Schmitt (for brevity's sake, I'll just link to all speakers' twitter accounts and not quote their titles and institutions at length) at the closing plenary, but how we manage to make the field work for us was all over the conference. The #MCNergy sessions I organized with 11 great colleagues provided workplace advice to nearly two dozen attendees spread out over five sessions on the conference's final day.
One session, "Mining 50 years of #musetech: Learnings from the MCN50 job description history project" by Nancy Proctor, Desi Gonzalez, Sarah Outhwaite, and Sean Blinn (with an Ignite version by Outhwaite and Blinn here) crunched data and narrative on five decades of job descriptions in the field. Titles and technologies may change but roles and org charts seem familiar. What can change is how museums see themselves in their communities, and in and around the staff who make up the institution. Take it from someone who's had four job titles but still occupies a similar place in the org chart—that means the field is overdue for change!
A session called "Perspectives on Leadership from Multiple Organizational Levels" moderated by Douglas Hegley and featuring Claire Blechman, Andrea Ledesma, and Meaghan Tongen, demonstrated that you don't have to be at the top of the org chart to effect change. An eye-opening called "Nobody likes being the bad cop: how to make saying "no" easier," by Shannon Darrough, gave a thorough grounding in how best to deflect requests for your time which will degrade your ability to do your work—and how the ability to say "no" at work comes from a thorough grounding of trust and transparency between you and your colleagues.
The key role of trust inside the institution was reiterated in the session "Curators and Digerati Unite! AAMC & MCN Interactive Forum," as these professional bodies representing digital and curatorial staff looked for common ground—and always seemed to find it in familiarity. Knowing what each other do outside of our silos is the gateway to better appreciation of the challenges other staff face around the museum. We'll need to make familiarity a measurable, and teach our tech to curators, providing workshops and lessons to make sure our colleagues know all of what we do. To make room for this activity, museum leaders will need to reduce "busyness" around our institutions.
Teaching moments around familiarity occurred in another talk, "The Empowerment Model: How to Make Everyone Part of the Digital Team," by Miranda Kerr. At her institution, the Shedd Aquarium in Chicago, expertise (including use of tools like Evernote and shared server spaces) is something to be shared, not hoarded and protected—and that familiarity is the key to learning and solving problems together. If digital is going to change from a job to a practice, it's this sharing—which we can control and act upon—where it will start. These shared wins can then be celebrated as common achievements and not simply projects pushed upon one group of staff by another (and I'm not just thinking of exhibitions, but new software and systems which curatorial see as being inflicted upon them).
Start [change] yourself, but you can't do it alone
I also enjoyed talks by:
So maybe it's the Museum Change Network? See what words between "Museum" and "Network" you can come up with for 2018! Until then, I remain …
PS, if you come to MCN, make sure to come for the day-before workshops and/or tours. I went to Fallingwater and all I got was rained on (not true, they just don't allow pictures inside this amazing structure totally worth a trip if you're in Western PA).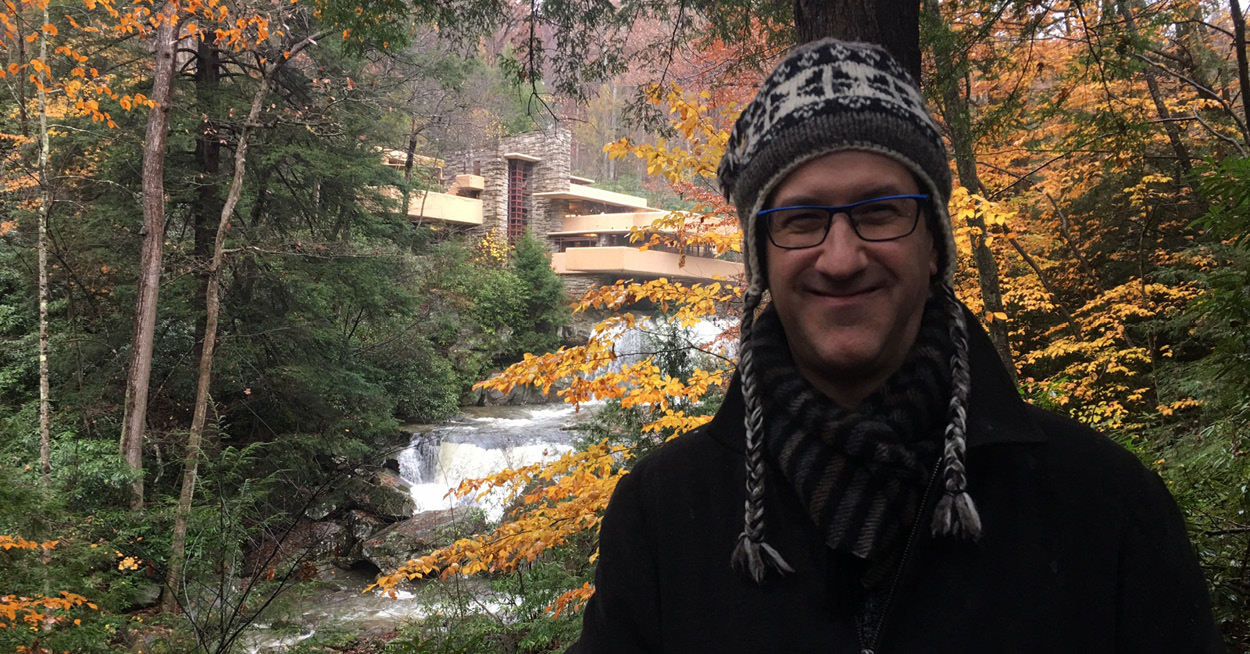 Your author in November-rain form
What I'm Reading
Am I the only person who's drowning in reading in this digital age? I have 500 articles in Pocket, I get daily digests from Medium, Harvard Business Review, the New York Times, The Guardian (I pay for all of these, despite the Times' regular groanworthiness), and I have 15 library books in various apps on my phone. Currently I'm trying (and failing—not because the books are bad but because there are too many of them!) to make it through:
The Bedlam Stacks, by Natasha Pulley
The Will to Change, by bell hooks
The Fifth Season, by N.K. Jemisin
We Were Eight Years in Power, by Ta-Nehisi Coates
Sourdough, by Robin Sloan
Scaling Up Excellence, Robert I. Sutton (author of The No-Asshole Rule and Weird Ideas That Work) and Huggy Rao
and when I have a chance, I'm rereading Blindsight by Peter Watts and Diaspora by Greg Egan, two of my favorite hard sci-fi books